Evelyn Lozada Rivals Eric Williams and Royce Reed Speak Up About Domestic Dispute With Chad Johnson
Eric Williams, former NBA player who appeared with Evelyn Lozada on "Basketball Wives," has taken to his Twitter account to make light of her recent domestic dispute that took place with new husband and NFL veteran Chad Johnson.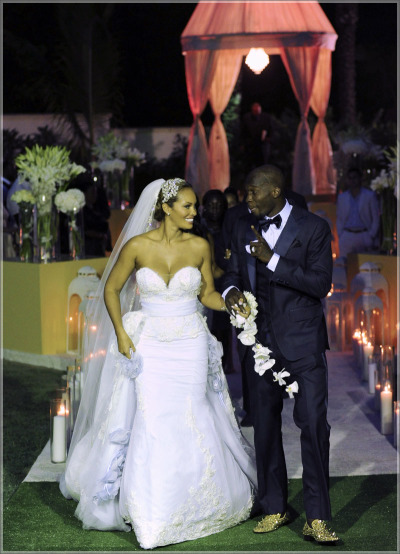 After Johnson was arrested for allegedly head-butting Lozada, Williams tweeted about creating a new reality television show centered around the lumps on both of their heads. While Williams has been the butt of many jokes because of the lump on his head that formed into a keloid after he was stabbed, he joked about Lozada's recent injury, months after her feud with his estranged wife, former 'Basketball Wives' star Jennifer Williams.
"Hey @EvelynLozada I bet that knot on your head (is) more shinier than mine," Williams tweeted. "Hey @EvelynLozada, lets do our own show, called '2Bumps you can't get enough.' We're good @hisknotThensaid, said he needs a companion."
Williams also used Lozada's catch-phrase "you're not about that life," to mock her on the social networking website.
"Evelyn Lozada I thought you were 'About that Life,' but I see you're #knot about that life," he tweeted.
While some people encouraged Williams' remarks on Twitter, others questioned if the former NBA player was being too hard on Lozada. However, Lozada seems to be familiar with Williams' Twitter rants and commented on them last year after viewers watched him throw a drink on his estranged wife, Jennifer.
In an interview with VH1, Lozada made it clear that she does not follow Williams on Twitter and spoke about him using the social networking website for attention.
"If you look at his Twitter feed, half the time it's like 'What are you talking about?' I don't follow him and the only reason I see certain things is because people re-tweet and then you see it," Lozada told the network that will broadcast her upcoming reality show documenting her wedding with Chad Johnson. "People have been saying things to him like 'Oh, you're an a–hole,' commenting on the bump on his forehead which is always a topic of convo, so…he looks nuts. I don't know if he's on defense mode or if it's because he likes the attention. I don't know."
While Williams had no problems speaking out about Lozada on the social networking website,
Royce Reed, Lozada's rival on "Basketball Wives," insisted that the alleged domestic violence situation was not amusing.
"FYI I don't bask in another person's misfortune. It's sad people think I'm laughing or amused," Reed tweeted. "I'm not. There's nothing funny about it period! #Human."
Lozada reportedly pressed charges on Johnson for allegedly head butting her, and the veteran NFL star was recently dropped by the Miami Dolphins after the dispute.
Chad OchoCinco and Evelyn Lozada Urban Ink Magazine Behind the Scene Boston