Ex-Pastor Ryan Bell Hints At Leaving Christianity Permanently Following 'Experiment' With Atheism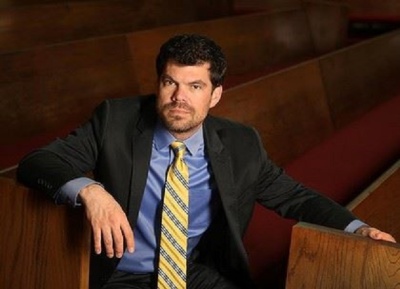 A Los Angeles pastor who gave up God for one year is now hinting that his "intellectual experiment" with atheism has left his faith at a stalemate as the journey comes to a close this month.
Ryan Bell was a Seventh Day Adventist pastor who served as adjunct professor at Fuller Theological Seminary as well as at Azusa Pacific University before embracing more liberal views and resigning from all positions in March 2013. Then, with the end of his 17-year-marriage, Bell encountered a crises of faith, and by January 2014, the Christian embarked on a year-long "intellectual experiment" entirely without God, which he shared publicly on his blog. Today, one year after beginning the journey, Bell says he now feels displaced amongst both Christians and atheists.
"It feels like I am now a pastor to the irreligious," he told L.A. Times. "Not that I want that role, but the way people are responding to me, it's pretty revealing. It feels like I've touched some sort of cultural nerve. There's just a lot of people questioning everything these days."
Moreover, the "experiment" has caused major changes in Bell's life- the former pastor began teaching at PATH, a nonprofit benefiting the homeless, and is now dating a Christian woman. Now, as the year comes to a close, Bell remains at a crossroads in his faith, referring to himself as a "weak atheist."
"I do think I've now seen both sides of the coin," the Director of Community Engagement at PATH added.
Despite his year-long hiatus from Christianity, Bell is celebrating Christmas this year, sans church services. And afterward, at the end of his journey on Jan. 1, Bell will announce where he stands in his faith.
"Being with the atheists, they can have the same sort of obnoxious certainty that some Christians have, and I don't want to be a part of that," the former pastor said, without revealing his current stance. "It feels like I'm stuck in the middle. I want to be for something good, but I don't want boundaries, and religion just feels like a very bounded thing."
Lastly, Bell queried, "Why do I need religion to love?"
Bell's blog, "Year Without God- A Former Pastor's Journey Into Atheism," explains his religious venture, including the introduction: "For the next 12 months I will live as if there is no God." For the past year, the pastor has not attended church, prayed, read the Bible or relied on God in any way. At first, Bell said he suffered without the light of the Lord, but he rationalized his decision by trusting Him.
"I trust that if there is a God that God will not be too flummoxed by my foolish experiment and allow others to suffer as a result," the blogger wrote.
The Christian Post has reached out to Bell for comment but has not heard back before deadline. Stayed tuned to CP for more on Bell in the New Year.