Interview: Alan Robertson Speaks Out on 'Duck Dynasty' Controversies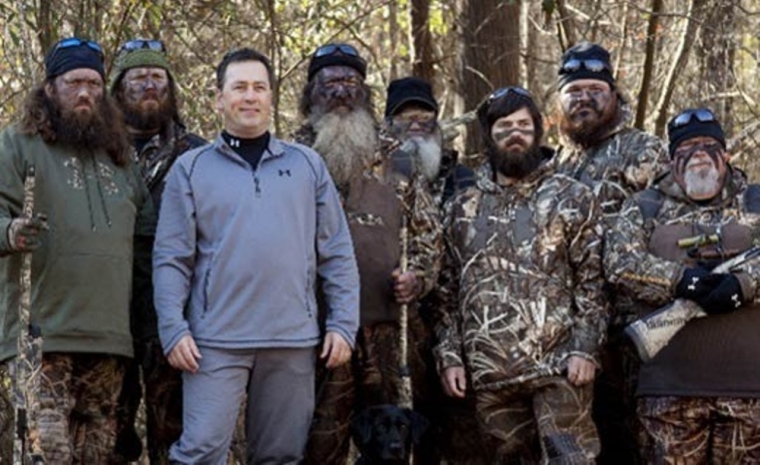 Taking hits from a series of controversies since mid-December, Alan Robertson says the "Duck Dynasty" family isn't going to back down from defending their biblical principles and, if anything, they plan to be even more bold than before.
With the barrage of media sound bites day after day, Robertson told The Christian Post late Thursday that, in this day and age, it's the way things go. "You get into the news cycles," he explained, "it's just the nature of the way things go once there's blood in the water, so to speak."
Last month, after A&E announced that Phil, the senior duck commander, was suspended indefinitely due to pressure from LGBT activist groups, such as GLAAD, for comments he made about homosexuality and sin, the family stood together and announced that they were unwilling to continue the mega hit reality TV show without the family's patriarch. Nine days later, the cable network announced that Phil was back on, with season five set to air on Jan. 15, and taping for the sixth season to get underway.
"We basically stood with dad, and I think he has the right to express his biblical views, as well as his opinions," Robertson told CP. "Obviously now, I think A&E is on board with that as well. They reinstated him, which is a good thing. I say now we just try to make a great television show and move forward. We're going to continue to talk about the Bible and try to help people, like we always have. That really never was in danger of not happening, and all this does is make us more bold to talk to people."
He continued: "Dad is a good, solid Bible man, and so are the rest of us. His views of sharing that haven't changed and ours haven't either. The biblical message is not always a popular message. There have been many people throughout history who've stood up for God and said what God needed them to say, and it didn't always mean they were popular because of it."
According to Robertson, when Christians experience difficulties or even face persecution, it doesn't change their mission, it just makes them realize that it's what Christianity is all about.
"It's not Pollyanna with us," he said. "We realize that, to be Christians, and to do what God has called us to do, it means you're going to rub up against people. And sometimes that's great when people see that and accept the Lord. Or, when they don't, it's not always so pleasant. So, there's no promise that standing up for Christ is going to be an easy experience."
In terms of sticking up for Phil, Robertson said that supporting each other is what his family has always done.
"But I'll tell you this: if someone in our family is wrong, we're going to tell them that too. It really comes down to one question: are we doing what's right, biblically?" he asked.
"With dad sticking up for the scriptures and saying the right thing, we're going to be the first people there. If he gets off track, we're going to be the first ones to tell him he's off track."
Two days after the initial controversy about Phil's comments on homosexuality and other sins was in full swing, CNN, the NAACP and even Jesse Jackson hurled accusations of racism against the Louisiana duck man for expressing his belief that the government's Great Society initiatives to combat poverty actually hurt families, opposed to helping them.
And this week, a video clip of Phil sharing his "faith, family and ducks" talk, which also includes an anecdote about marital advice he shared with a young couple during the 2009 sportsmen's ministry event in Georgia, has become the most recent "scandal."
Here's an excerpt from the video:
"I said, son, I'm gonna' give you some river rat counseling here. Make sure that she can cook a meal. You need to eat some meals that she cooks and check that out.
Make sure she carries her Bible. That will save you a lot of trouble down the road. And if she picks your ducks, now that's a woman.
They've gotten to where they're getting hard to find. Mainly because these boys are waiting until they get about 20 years old before they marry 'em.
Look, if you wait until they get to be about 20 years old, the only picking that's going to take place is your pocket.
You've got to marry these girls when they're about 15 or 16 to pick your ducks. You've got to check with mom and dad about that, of course."
For avid "Duck Dynasty" fans, Phil's comments aren't exactly shocking, because he's made a similar statement on the show. However, in her book, Miss Kay's Duck Commander Kitchen, Miss Kay writes that she doesn't believe couples should marry young, like she did.
"I married Phil when I was 16, which was young to marry, even for the 1960s, when the average marrying age was around 20. Marrying that young is not something I would ever recommend, but I do know this: marriage isn't about finding the perfect person and then settling down for the perfect life. It's about living up to a commitment you made and learning to love the person you are committed to," Miss Kay said.
Alan Robertson's take on marrying young
For the Robertson men, the concept of getting married just before, during or after one goes to college doesn't matter, but they each chose to marry the woman they fell in love with early on, opposed to waiting for maturity to strike them later in life.
"Honestly, dad, as well as the rest of us, we really try early on in our kids' lives to teach them about the importance of finding the right person that you can grow spiritually with. So that may begin early, or it might not happen until you're older, but at the same time, most of us got married pretty young, in our teenage years," Robertson explained.
"We've always had a mindset that, as Christians, we want to find someone else who's not only going to be a complement to us, and help us spiritually, but we want to be able to help them," he continued. "We were all boys, obviously, so dad always taught us that our role was to be a spiritual leader, and to help our spouses and ultimately our children make it to heaven. So that's always been our approach in terms of picking a spouse."