Exodus International Rejects Reparative Therapy for Gays
Correction Appended
Exodus International President Alan Chambers addressed the crowd at the 37th annual Freedom Conference on Wednesday in order to share why the organization will no longer use reparative therapy to help those who struggle with same-sex attraction (SSA), and will use a model that focuses more on discipleship instead.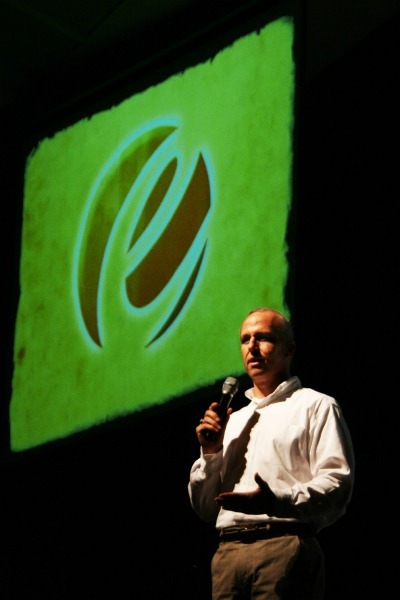 Chambers told The Christian Post on Thursday that reparative therapy, which seeks to "cure" SSA through activities like counseling and prayer, sets the person seeking therapy up for failure by giving him or her unrealistic expectations.
"As the president of Exodus International and, even more than that, as a Christian leader who is out in front of people all the time, it is my responsibility to lead honestly and transparently and to share with people that, just because you become a Christian,...your struggles don't always go away," he said. "You don't get to a place where you're never going to be tempted again."
Chambers says anyone who still believes in reparative therapy will still be able to minister with Exodus, but the organization will no longer support such practice.
He has a great deal of understanding when it comes to dealing with SSA because as a young adult he chose to pursue Christ instead of his homosexual urges, and today he is married and has two children.
Although he has personally experienced much freedom through Christ, he says he would not be honest if he pretended that he isn't still tempted by the same sex at times. Some of his friends who believe in reparative therapy have told him that they can cure him completely, but he says that is not the case.
"I don't think it's a biblical message, and that's why we've shied away from it."
Instead of encouraging churches to offer special support groups that appeal only to a certain niche, Exodus is now encouraging them to instead invite those who are tempted by same-sex attractions into the church community as a whole. Chambers says Christians need to treat SSA like they would other temptations too, and shouldn't assume that it can be gotten rid of completely.
"Christians in the body of Christ, we have overemphasized complete resolution and complete change for this issue but not for others...and I don't think we're telling anybody else with any other type of struggle that they have to...never be tempted in that area again in order to be a good Christian," he said.
Exodus' change in approach signals another step in the "evolution" Chambers and his ministry have undergone in their own view of homosexuality in the last 10 years. He believes this most recent development is more Christ-centered than ever before.
"It's been really a move away from a man-made understanding of this issue that gets mixed into a biblical understanding, into a gospel-centric message and understanding of the issue," he said.
Hundreds of people from 39 states and nine different countries are in attendance at the conference in St. Paul, Minn., this week, which began Wednesday and will come to a close on Saturday. The theme of this year's event, "Made for More," encourages those in attendance not to settle for anything less than the fulfillment that Christ has to offer, neither in their sexuality or in any other area of their lives.
Chambers says the event will be helpful for those who struggle with SSA, their friends and their families, but it will also be beneficial to pastors and ministers who haven't yet learned how to serve this group of people.
"We just really all need to all be aware of the fact that, just because we are not ministering, or just because we don't really know someone, doesn't mean that they're not right in our midst," said Chambers.
Instead of encouraging those with same-sex attractions to simply pursue heterosexuality, Exodus encourages people to pursue Christ, holiness and Christian maturity in every area of their lives. Chambers also stated that those who struggle with SSA and are unable to be in a heterosexual monogamous relationship should remain celibate.
Recently a number of anti-bullying initiatives have sprouted up across the U.S., and some people have accused Christians who hold to a biblical standard of heterosexual, monogamous marriage of being bigots. In April, for example, Dan Savage, a gay anti-bullying activist and sex columnist, came under fire for making offensive comments about the Bible at a journalism conference and then mocking a group of Christian high school students for leaving during his speech.
Chambers says the church's poor behavior toward the gay community in the past has created the negative attitude that many homosexuals feel toward Christianity today. Still, he believes churches should do something to take a stand against bullying as well.
"When it comes to bullying initiatives, the church should be the first to step up to the plate and say, 'We're going to create our own anti-bullying initiative. We're going to have zero tolerance when it comes to bullying, and gay jokes and the things that make people feel less than,'" he said.
He also believes that Christians have become known more for what they are against than what they support, and says it is more important to let people know that God is in favor of healthy marriages and relationships than that He is simply against homosexual behavior. Those who have same-sex attractions need to be told, and shown, that Christ loves them.
Correction:  June 29, 2012:
An article from June 29, 2012 about Exodus International's plan to move from a reparative therapy approach to a discipleship approach of helping those who struggle with same-sex attraction incorrectly stated that "anyone who still believes in and supports reparative therapy will no longer be permitted to minister with Exodus." Those who believe in reparative therapy may still minister with Exodus, although Exodus will no longer support or practice this approach.
READ: THE EXODUS OF CONVERSION THERAPY
Woman Leaves the Homosexual Lifestyle to Pursue Christianity
Homosexual Forgiveness (Michael Brown)