Faith Fellowship to Host Viewing, Celebration Service for Late Pastor David T. Demola March 5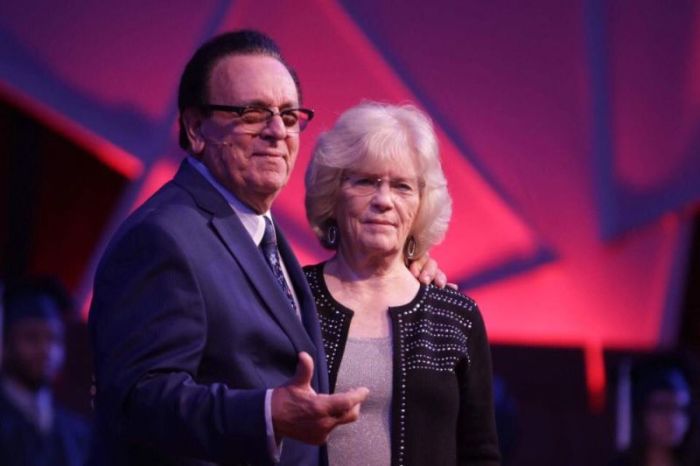 Just under two days since the passing of Pastor David T. Demola, beloved founder of the 10,000-member Faith Fellowship Ministries World Outreach Center in Sayreville, New Jersey, on Tuesday, church officials announced they will host a celebration service in his honor on March 5.
"Monday, March 5th - From 2:00 pm to 7:00 pm there will be a viewing open to everybody in the church's sanctuary," church officials announced via the church's Facebook page Wednesday.
"Immediately following, at 7:00 pm, we will have a Life Celebration Service, which will be open to all, as we pay tribute to this Warrior of the Faith for his years of dedicated service. It would be a tremendous blessing to Pastor Diane and the family to see FFM filled to the rafters to honor this great man of God. She has asked that all monetary gifts be directed to FFM and earmarked for IPMC, FITS, and other areas dear to Pastor Dave's heart."
The church was shuttered Wednesday and all activities canceled out of respect for the Demola family as they grieved the loss of a man celebrated as a preaching giant. A midweek service will be held on Thursday night, however, along with usual Sunday services.
Pastor Demola died at home Tuesday at the age of 74. His cause of death was not announced. Church officials and thousands who knew him publicly celebrated his life of service that inspired supporters around the world.
"Pastor Demola was a true giant and champion of the Christian faith who will be sorely missed by all of us here at FFM and countless others around the world whose lives he touched throughout his 58 years of ministry. We ask that you pray for his loving wife, Pastor Diane Demola, his children and other family during this difficult time. We also ask that you pray for our FFM family as we look to God for His guidance," his church noted on Tuesday.
Demola began his ministry as a teenager in 1959, working with gang members and homeless people in Brooklyn, New York, through what is now Teen Challenge International, according to the church's website. He later moved on to minister as an evangelist in Europe, the Caribbean, South America and across the U.S. His church grew out of a Bible study he started in his home in 1980.
In a 2014 video clip posted by the church this week, Joseph Prince, senior pastor of the 33,000-member New Creation Church in Singapore, recalled Demola as a "true pastor in every sense of the word."
"That man is an amazing man of God. I mean his heart is for the world. The whole world is in his heart. He has such a big heart, generous, a true pastor in every sense of the word," Prince said.
"I remember years ago when God gave him this vision of inviting individuals that God has put on his heart from different parts of the world. In Singapore, he selected me. I was just at that time in my early 20s; nobody knew who I was. I didn't mind. I was happy to share a room with another brother from South Africa and we developed a friendship and I sat at the feet of a wonderful great man of God in that conference and I will always be beholden to him for inviting me to that conference. Dave Demola is the man," he added.