Fans Give Hero Charles Ramsey $14K Check; 14 Restaurants Award Him Burgers for Life, But Not McDonald's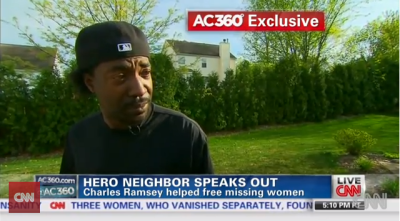 Although Cleveland hero Charles Ramsey publicly refused a monetary reward for helping to rescue three women and a girl from alleged sexual miscreant Ariel Castro this month, just over 600 fans recently sent him a check for nearly $14,000 for his bravery.
The money was raised by a thankful fan from Portland, Ore., Robby Russell, through crowd-funding website, gofundme.com.
Russell initially started the campaign to raise $10,000 for Ramsey on May 6, the same day Ramsey helped Amanda Berry, 27, her 6-year-old daughter Jocelyn; Gina DeJesus, 23; and Michelle Knight, 32, escape from Castro's house where they were being held captive as sex slaves for almost 10 years. By Wednesday, 16 days and 604 donors later, Russell had raised a total of $15,096.
"Dear Charles Ramsey, thank you for doing what you did... thank you for the fantastic interviews. You made us smile. You made our day," wrote Russell at the start of the campaign in a note on the page on behalf of "The Internet."
In an update to donors on Wednesday, he announced that he had received their donations from gofundme.com for Charles Ramsey minus the website's fees, and posted a picture of a cashier's check made out to Charles Ramsey for $13,731.43.
To confirm that he received the money, Charles Ramsey sent them his thanks via a 24-second YouTube video.
"To the 600 people, especially Robby, I appreciate this bro. I got apartment, it's furnished, I wish every one of you were right here with me so I could hug you. From the bottom of my f***ing heart, I appreciate this and God bless all of you. Thank you," said Ramsey in the video.
According to another report, Ramsey also has been offered free burgers for life from 13 Cleveland restaurants in addition to another in Pennsylvania, but McDonald's, which Ramsey highlighted in a series of interviews that have gone viral, is as of yet, not among them.
The full list of restaurants that have promised free burgers to Ramsey are:
AMP 150
Washington Place Bistro and Inn
Fahrenheit
Market Garden Brewery
Bier Markt
Bar Cento
Nano Brew
Welshfield Inn
Hodges
Pura Vida
87 West at Crocker Park
Orchard House
Flour
Allegheny Grille (Pennsylvania)