Federal Judge Orders South Carolina Officials to Stop Enforcing Gay Marriage Ban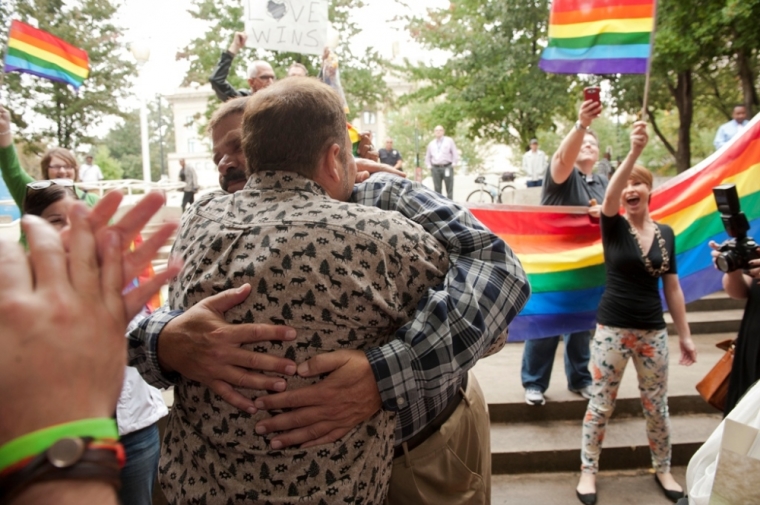 A federal judge ordered South Carolina officials to stop enforcing the state's ban on gay marriage on Wednesday. District Judge Richard Gergel gave the state a one-week stay to appeal, but same-sex couples could begin filing for marriage licenses on Nov. 20.
"The court hereby declares that [the South Carolina constitutional amendment to ban same-sex marriage], to the extent they seek to prohibit the marriage of same-sex couples who otherwise meet all other legal requirements for marriage in South Carolina, unconstitutionally infringe on the rights of plaintiffs under the due process clause and equal protection clause of the Fourth Amendment of the United States Constitution, and are invalid as a matter of law," the ruling stated, according to NBC affiliate WIS.
Gergel added that he found no real distinction between South Carolina's ban on same-sex marriage and a similar ban that was declared unconstitutional in Virginia. Gergel said that the earlier decision in Virginia "establishes, without question, the right of plaintiffs to marry as same-sex partners."
South Carolina had opposed changing the legal definition of marriage despite a decision by the U.S. Supreme Court to not take up the 4th U.S. Circuit of Appeals decision that overturned Virginia's marriage amendment. The 4th Circuit also oversees South Carolina.
At the time of the Supreme Court's decision, no federal appeals court had upheld a state marriage law defining marriage as only between one man and one woman. Since then, however, the 6th U.S. Circuit of Appeals upheld a gay marriage ban in Ohio. With a split decision at the appellate level, the Supreme Court is now more likely to take up the issue.
Gergel reviewed a case concerning a lesbian couple, Charleston County Councilwoman Colleen Condon and her fiancée, Nichols Bleckley, whose request for a marriage license in Charleston was blocked in October by the South Carolina Supreme Court.
South Carolina voters had previously chosen to preserve the definition of marriage between one man and one woman in a 2006 ballot.
Attorney General Alan Wilson's office is reportedly reviewing the judge's order, and will have to decide whether to take advantage of the one-week stay and appeal the case.
On Monday, U.S. Supreme Court Justice Sonia Sotomayor issued a preliminary injunction which temporarily stopped a lower court decision that would have allowed gay marriages in Kansas.
Kansas also voted in an amendment to a 2005 ballot that defined marriage as between one man and one woman. Amendment 1, as the initiative was called, had passed with 71 percent of voters supporting it, compared to 29 percent who were opposed.
A total of 32 states in the U.S. allow same-sex couples the opportunity to get married.