Filipinos Nailed to Crosses in Good Friday Re-Enactment That Church Says Corrupts Christian Message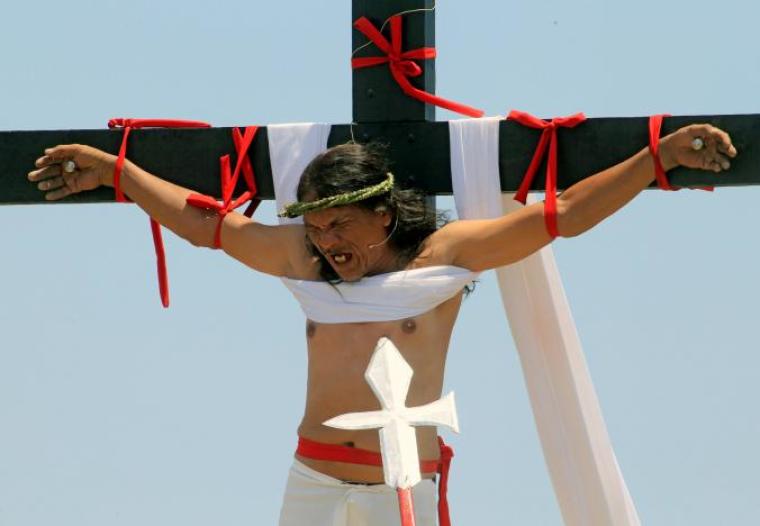 Devout Filipino Christians nailed themselves to crosses in a controversial annual Good Friday re-enactments of the crucifixion of Jesus Christ.
"As long as we trust in the Lord, praying fervently, it's never too far that the Lord won't listen," 57-year-old Ruben Enaje said in an interview with The Associated Press on Friday.
Enaje, who has been taking part in the ritual for the past 31 years, said this year he was also praying for the 45 people killed in two IS attacks on Christian churches in Egypt.
"As long as we trust in the Lord, praying fervently, it's never too far that the Lord won't listen," said the man, who was briefly nailed by the hands and feet to a cross.
Enaje said the country's major drug war is another key reason for his participation this year.
"I am praying for the victims, the victims of drug addicts," he explained. "These drug addicts can waste their life, but we should also still pray for them because they've done wrong."
The re-enactments of the crucifixion have become a tourist attraction in San Fernando, Pampagna, an area 50 miles north of Manila, with many of the participants, mainly impoverished Catholic Christians, using the ritual to pray for the sick or for a better life.
The tradition apparently started as a stage play 60 years ago, and features theatrics of actors dressed as Roman soldiers dragging about participants and nailing them with real nails into wooden crosses.
The Catholic Church there has spoken out against the practice, however, Reuters reports, calling it a "misinterpretation of faith."
It has also opposed the ritual being used as a form of tourism for the area, which is what it has increasingly been becoming.
"It was a pretty wild thing to kind of watch and experience," said Canadian tourist Matt Kenic. "It's very intense."
"I pity them and I felt like crying," added Philippine tourist Teresa Cruz.
The Church has also in previous years warned that the ritual is "self-serving" and corrupts Christ's message of suffering for others.
"Penance does not mean you hurt yourself, because your body is a temple that houses the spirit," Archbishop Aniceto Paciano of San Fernando said back in 2014.
Bishop Joel Baylon of Legazpi, chairman of the bishops' commission on youth, added back then that there are "other forms of sacrifice and suffering that would lead to real conversion."
"The Lord appreciates all these forms of sacrifices, but sometimes the kind of sacrifice that we impose on ourselves is not what the Lord wants us to do," Baylon said.
The Philippines has the largest Catholic population in Asia, making up 80 percent of the over 100 million population, though the Church has faced a difficult time dealing with controversial President Rodrigo Duterte over the past year.
Duterte, who said he believes in God but slammed the Church on several occasions, has accused priests of molesting children, participating in gay acts, and failing to understand the country's problems.
Much of the strife has been caused by Duterte's insistence on bringing back the death penalty in the country, which Catholics oppose and have strongly spoken out against.