Fired for Premarital Sex? Pregnant Woman Sues Christian College (VIDEO)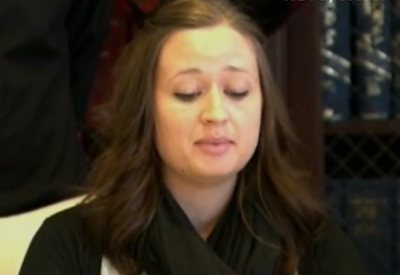 A woman claims she was fired for having premarital sex by a Christian college in San Diego, California.
Teri James has since filed a lawsuit against San Diego Christian College in El Cajon claiming wrongful termination.
She admits that she became pregnant through having premarital sex, and has claimed that this was the reason the Christian college dismissed her. James has now hired high profile attorney, Gloria Allred, to argue her case against SDCC, according to KGTV.
In November 2012, Allred became the attorney for Natalie Khawan, twin sister to Jill Kelley in the General David Petraeus scandal, during her custody dispute for her son.
James has claimed that she was told by the human resources director at the college that she was not being fired for being pregnant, but instead for engaging in premarital sex. She claims she was given two options; quit or be fired.
Allred has made clear these allegations, telling media sources: "The HR director indicated that she was not being fired because she was pregnant. Instead, she was being terminated because she had premarital sex."
James was reportedly fired from the Christian college four months ago, where she had been employed as a financial aid specialist.
She claims that her employers were satisfied with her work until they learned of her pregnancy out of wedlock.
James, who is currently six months pregnant, revealed her lawsuit at a press conference in California in mid-February, stating that she is suing the university due to discrimination by gender, pregnancy, and marital status. She claimed, "San Diego Christian College did not show any mercy or grace towards me, and acted completely un-Christ-like. They made more of a business decision than showing God's love."
On the San Diego Christian College website the school has put in place a clear doctrinal position that all employees must adhere to. The school mandates that all job candidates sign a "community covenant" before they are hired, which explicitly states that all employees will "abstain from sexually immoral behavior, including pre-marital sex, adultery, pornography and homosexuality."
The San Diego Christian College is by no means the first Christian institution to enforce biblical ethics on employees to maintain its integrity. In 2008 Shorter University enforced a new policy called the Personal Lifestyle Statement, which explicitly forbade pre-marital sex, adultery, and homosexual behavior. In that case, although a number of employees became disgruntled about the new policy, it was found to be completely legal in the state of Georgia.
In the present case involving Teri James, her attorney has sought to argue that gender discrimination is the major proponent. She has explained this by saying, "How would they know if a man was having pre-marital sex unless he was able to show that he was pregnant?"
It has also been reported that James' boyfriend, who has now become her husband, was later offered a position at the college. It has been claimed that the human resource personnel knew about his relationship to James when he was offered the job.
Here is a video report into the incident: