Fla. Army Veteran Recruits US Soldiers to Fight ISIS by Joining 'Veterans Against ISIS' Militia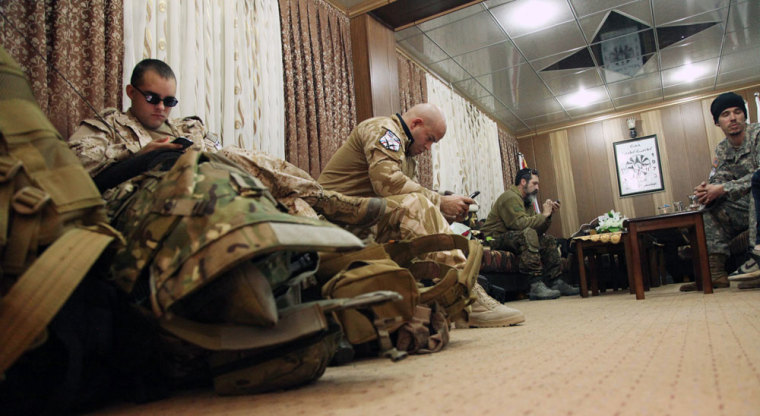 An eight-year U.S. Army veteran in Florida has started an initiative calling on experienced military veterans to join him in traveling to Iraq or Syria to fight against the Islamic State terrorist organization.
Fed up with the U.S.'s lack of a physical presence in Iraq and Syria in order to help defend the millions of people who've been affected by ISIS' uprising, Army veteran Sean Rowe founded the group Veterans Against ISIS last Wednesday and is asking for donations and other veterans to join his cause and take a stand against ISIS' radical Islamic oppression.
"We are tired of seeing what's going on, and it doesn't look like anything is being done," Rowe told ActionNews Jacksonville. "These guys are slaughtering and beheading people. We're going over there to stop that. It's not about the money."
Although Rowe referred to his movement as "we," he's currently the only member, as no other military veteran has yet vowed to join in the fight against ISIS. However, Rowe claims other veterans are considering joining him.
"There has definitely been strong support and numerous veterans who are seriously interested in going," Rowe told WLTV. "I'll be talking with them, screening them. I don't want to just take anybody."
Rowe added that he has placed a four-year minimum-service requirement for those who want to join.
Rowe warns that veterans who decide to join in the fight against ISIS will have to make greater sacrifices than they would under normal U.S. military service because a makeshift militia group won't have easy access to medical treatment and won't be protected under the Geneva Convention.
"It is going to be very dangerous, but that's a risk that anyone who's signing up for this is voluntarily taking," Rowe emphasized.
Although ISIS has become notorious for killing its captured opposition fighters in the most brutal and inhumane ways, Rowe assured that he's not afraid.
"I am not scared of these guys," he asserted. "They can come for me if they want. I want to take the fight to them. That is my goal. I want to take the fight to them."
Even if Rowe is unable to get anyone else to join him in traveling to fight ISIS, he said he still plans on bringing the fight to ISIS.
"I'll be surprised if anyone is actually crazy enough to go on this first mission," Rowe admitted. "If I have to go alone that's fine."
Rowe didn't indicate where in Iraq or Syria he planned on going to combat ISIS, or how he would go about it.
"We just got to get in the area," he explained. "We just got to get over there and just leave [strategy] for us."
Although there are no federal laws prohibiting individuals from traveling overseas and acting as mercenaries, there are travel restrictions that could create a problem for mercenaries that plan on using their own weapons to fight ISIS.
It is uncertain as to whether Rowe plans on traveling to the conflict area to fight by himself or whether he plans to join another opposition militia such as the various Christian militias or the Kurdish peshmerga forces.
A number of other U.S. military veterans have already traveled to the region and joined Christian militias. U.S. Marine Corps veteran Louis Park told Radio Free Europe on Feb. 19 that he believes ISIS will eventually attack the U.S. if nothing is done to stop them in Iraq or Syria.
"I know that if [ISIS] is allowed to stay here, we will see violence in the United States as well. So I'm protecting my homeland too," Park said. "I'm not being paid at all. I'm being fed and I'm being clothed and everything, but any gear that I need, I'm paying out of pocket. This is all money that I saved for this effort myself, because I believe in the cause a lot, so I'm willing to finance everything."
U.S. Army veteran Brett Royales, a former machine gunner and marksman, told Radio Free Europe that he joined a Christian militia's fight against ISIS because he felt guilty sitting at home while ISIS was brutally killing innocent people.
"I've been given a skill set. I've honored it over the years. I can't sit home and watch what's going on here — the atrocities, crucifixions, rapes, sex slaves, people being driven out from their towns," Royales explained. "It's unacceptable to me, so I'm here to do what I can to get people back in their homes and protect their way of life."