Food Stamps for Pets? New Initiative Sees 45,000 Pets Sign Up for Food Stamps
Food Stamps for Pets? New Initiative Sees 45,000 Pets Sign Up for Food Stamps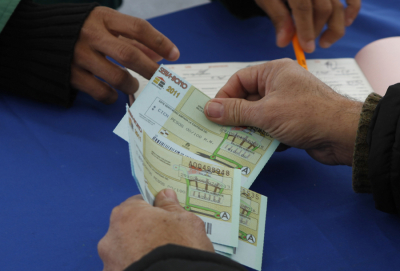 Food stamps for pets could be provided for low income families to help pet owners keep and look after their pets, according to a new report this week.
A new donation-based program is being launched called "Pet Food Stamps," which will look to provide food stamps for low-income pet owners, and for food stamp recipients who would not otherwise be able to feed their pets, KVIA in Las Cruces, N.M. has reported.
The program will be based in New York but will be open for any family in the United States to apply for. In just the opening two weeks of the program more than 45,000 pets have been signed up, according to ABC News.
The program will look to verify applicants' details and income, after which those whose applications are accepted will be able to receive pet food each month from Pet Food Direct for a six month period.
Pet Food Stamps' founder and executive director Marc Okon has said, "We're not looking for government funding at this point. Should the government be willing to provide assistance further down the line, we will look into it," according to ABC News.
Okon has confirmed that at present the only way to apply is through an online application, but later, once the organization obtains its new offices they will accept mail in applications too.
Other aid programs for pets and animals already operate throughout the country, with ABC highlighting the Washington Animal Rescue League, which provides pet food banks and discounted pet care for low-income owners. Washington Animal Rescue League spokesman Matt Williams told ABC News: "One of our missions is to provide income-qualified families with discounted pet care, vaccinations, vaccine clinics, neutered clinics and vet care. We have a new medical center on site. … We also have a food bank run entirely on donations."