Former Astronaut John Glenn Says Evolution Should Be Taught in Schools; Affirms Belief in God
Former Astronaut John Glenn Says Evolution Should Be Taught in Schools; Affirms Belief in God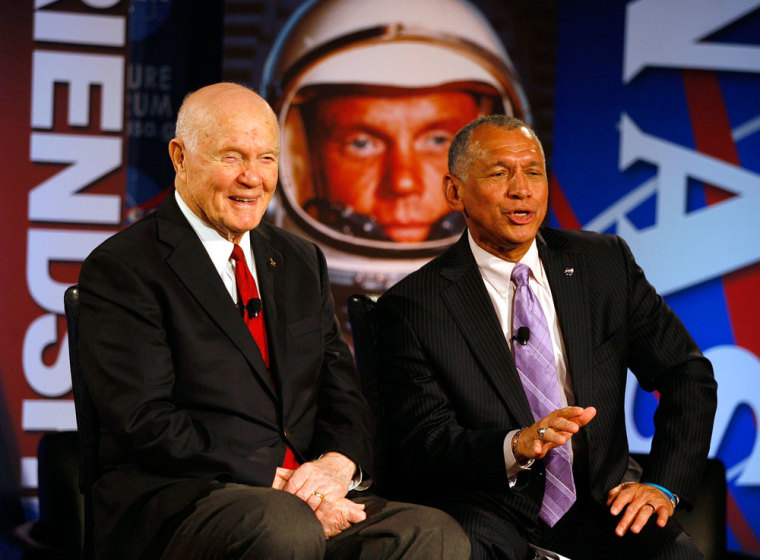 John Glenn, former astronaut and the first American to orbit the Earth, told The Associated Press in an interview last week that there is no conflict between evolution and a belief in God, and that evolution should be taught in schools.
"I don't see that I'm any less religious by the fact that I can appreciate the fact that science just records that we change with evolution and time, and that's a fact," Glenn, a Presbyterian, told AP. "It doesn't mean it's less wondrous and it doesn't mean that there can't be some power greater than any of us that has been behind and is behind whatever is going on."
Josh Rosenau, programs and policy director at the National Center for Science Education, told The Christian Post he is not surprised that Glenn would endorse the teaching of evolution in school.
"In general the importance of teaching evolution is a practical matter," declared Rosenau. "The 20th century was dominated by physics, we are a century of biology.
"There is an incredible explosion of biology and how well we understand evolution is criticial to how we understand the human person and advances in medicine."
Rosenau says he sees no problem with being quite religious and teaching evolution."There are a lot of different theological thoughts on evolution, a whole range of different theologians support the teaching of evolution."
He compared the importance of entreprenuers starting computer companies in their garages decades ago to future advances in medicine.
"People are tinkering with bacteria about ways to make humans healthier. In someone's garage is probably that next generation of innovation. I'd rather these advances be in the United States, and education in evolution promotes that.
"When doctor's are looking at issues like cancer they are thinking about human evolution, when they are developing new drugs, or studying a new strain of flu or virus, they are thinking about how this is evolving."
Rosenau emphasized to CP that studying evolutuion is making us healthier. "The massive data we are evaluating from the human genome, this is going to be a routine part of the medical record.
"The way we make sense of that is comparing that to other species. That only makes sense because we have the same genes because we share a common ancestor."
Danny Faulkner, an astronomer at Answers in Genesis, an apologetics ministry that advocates for the literal six-day creation and opposes evolution on biblical grounds, told CP that in his teaching experience, students "excelled best when they are exposed to both sides of the debate. It really hones their critical thinking skills."
"I get the impression that in public schools that everything is on the table but one thing," declared Faulkner. "They don't allow teachers to broach the subject of criticism of evolution and a belief in God."
The Answers in Genesis astronomer believes there is no problem in teaching evoltuionary ideas, something he has done througout his career, but believes "being free to discuss those ideas is important."
Casey Luskin, research coordinator for the Center for Science & Culture at the Discovery Institute, said he did not know what Glenn's definition of evolution means but added, "Some definitions of evolution are completely compatible with a belief in God and others aren't. That is a key aspect of evolution we need to remember."
In an interview for the 1998 book Frontiers of Space Exploration, Glenn spoke to author Roger D. Launius about his belief in God.
"I pray every day and I think everybody should. I don't think you can be up here and look out the window as I did the first day and look out at the Earth from this vantage point," said Glenn. "We're not so high compared to people who went to the moon and back. But to look out at this kind of creation out here and not believe in God is, to me, impossible. It just strengthens my faith."
Glenn, now 93, served as a Marine combat pilot in the Pacific in World II and the Korean War. He served as a United States Senator from Ohio as a Democrat from 1974 to 1999 and unseccesfully ran for the Democrat Party nomination for president in 1984.