Former House Majority Leader Tom DeLay on How Meeting Jesus Inspired New Book (Interview Part 2)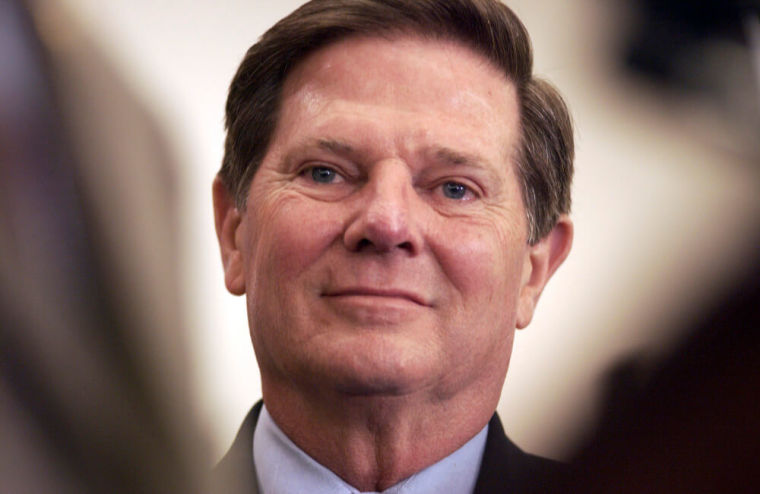 Former House Majority Leader Tom DeLay encountered Jesus over 30 years ago and the transformation he underwent inspired him to write a book calling America back to its godly heritage.
In an interview with The Christian Post, the former congressman told CP that writing Revival! Revolution! Rebirth, a work he co-authored with Wallace Henley, senior associate pastor at Second Baptist Church in Houston, Texas, changed his heart.
In part one, CP interviewed Henley, who spoke more in depth about the process of repentance and revival that can lead to transformation in a nation.
"How does a nation repent? Well, 100 percent of the nation is not going to repent, but when the remnant community, which is the core of the spiritual heart of the nation, when that remnant community awakens to repentance it radiates to others and others pick up the theme across the culture. When that occurs, that's when revival really strikes," Henley said.
DeLay represented Texas' 22nd Congressional District in the House of Representatives from 1985 to 2006, serving as House Majority Leader from 2003 to 2005. Upon leaving Congress, DeLay co-authored a political memoir titled No Retreat, No Surrender: One American's Fight with Stephen Mansfield and founded a strategic conservative political consulting firm called First Principles, LLC.
Tom and his wife, Christine, are particularly passionate about helping foster children, and in 2005, with funds raised from DeLay's foundation for kids, opened Rio Bend, a Christ-centered foster facility, in Richmond, Texas.
In the fall of 2009, DeLay appeared with professional dancer Cheryl Burke on ABC's "Dancing With The Stars" but had to withdraw from the competition after a few episodes due to injuries.
Here is CP's lightly edited interview with DeLay.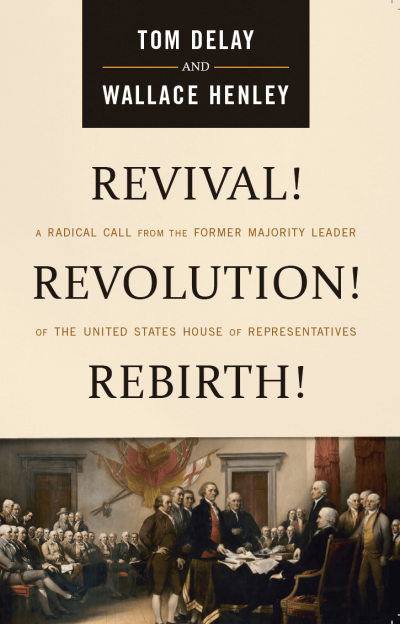 CP: How is the thesis of the book a microcosm of your life?
DeLay: In my childhood our family attended church sporadically. There would be other times when our mother would take us to Vacation Bible School and Sunday School. However, I had only a general knowledge of God that made little difference in my life. It wasn't until 1985 that I made a serious commitment to Christ through the witness of Congressman Frank Wolf. That marked the beginning of "revival" for me.
The "revolutionary" stage was when I passed through years in the courts on charges for which I was later exonerated. However, in that turmoil I began to know the peace and even joy of deepening relationship with God, and the constancy of His presence.
Similarly, America has known about God from her beginning, but the nation goes through periodic seasons of revival as she passes through crisis. We are much in need as a nation now for revival that recognizes God at the core of the nation. This can revolutionize our culture and lead to a rebirth of the principles and values that have made America special.
CP: How has working on this book changed or impacted you?
DeLay: Working on this book has strengthened my passion for the truths we write about, and made me more determined than ever to seek revival, a revolution for the Constitution, and rebirth for our nation.
I was strengthened by watching the process of the Lord at work in Wallace and me as He synchronized our thinking, and, as we shared with one another, seemed to give it new expression. We sought to keep God at the center, and both of us felt our focus sharpened by that.
CP: What do you want readers to take away from Revival, Revolution, Rebirth?
DeLay: I hope readers will be strengthened in their faith and understand that as we walk with the Lord we must bring Him into the public square with us.
God is at the core of the Declaration of Independence and the Constitution, and the Constitution is at the core of our government; thus, we need a God-centered revolution for the Constitution, resulting in a rebirth of our culture.
When we pray for this ... and for our nation generally, it must not be simply for our own self-focused comfort, but for God's purpose, and that He will be glorified.