Former Pope Benedict Please With Germany's World Cup Victory, Hopes Argentina 'Recovers Soon'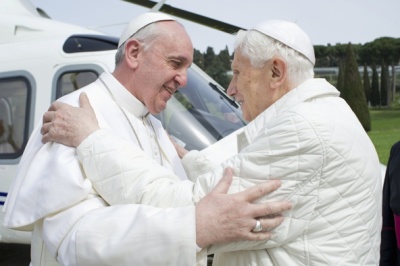 Former Pope Benedict XVI is reportedly pleased with the outcome of FIFA's 2014 World Cup that saw Germany as the victor, although the ex-pontiff said he hopes Argentina recovers from its loss soon.
Archbishop Georg Gaenswein, the secretary for Pope emeritus Benedict XVI, confirmed Monday that the former pope had been pleased with the outcome of the final World Cup game, as some of the players on Germany's national team hailed from Bavaria, the same region Benedict calls his hometown.
Gaenswein told Vatican Radio that although Benedict did applaud the German victory, he did not in fact watch the game that aired internationally on Sunday. Rather, Benedict was asleep during the game, although his staff "all supported Germany."
When asked if the former pope was satisfied with Sunday's World Cup victory, the Archbishop told Vatican Radio: "Yes and no because the team has some Bavarians and that warms the heart even more. But then he said: 'I hope the Argentinians recover quickly.'"
In February 2013, Pope emeritus Benedict XVI became the first pontiff since 1415 to resign from the papacy, citing his age at 87 as the reason for his stepping down. Argentinian Pope Francis then took Benedict's place, and some Catholics have suggested that the two religious leaders held a sports grudge in this year's World Cup, although Francis has not publicaly expressed his sentiments about the month-long soccer tournament or the loss of Argentina's national team on Sunday.
Sepp Blatter, president of FIFA, the World Cup organizer, recently told Catholic Culture that he had received a personal message from Pope Francis, who reportedly expressed his disappointment that Argentina had failed.
"He certainly was not happy about Argentina's defeat," Blatter said, "But he told me that football is good because it unites people."
Rumors of the current pope's possible interest in Sunday's game even caused one man in Buenos Aires, Argentina to arrive at the Plaza San Martin public square dressed as the pope and wave to throngs of avid soccer fans.
Germany and Argentina squared off in a contentious match Sunday, with the European country winning against the South American country by only one goal, scored by Mario Gotze during the last eight minutes of overtime.