Francis Chan: We Need to Think of Evangelism Like 'Raising the Dead,' as Impossible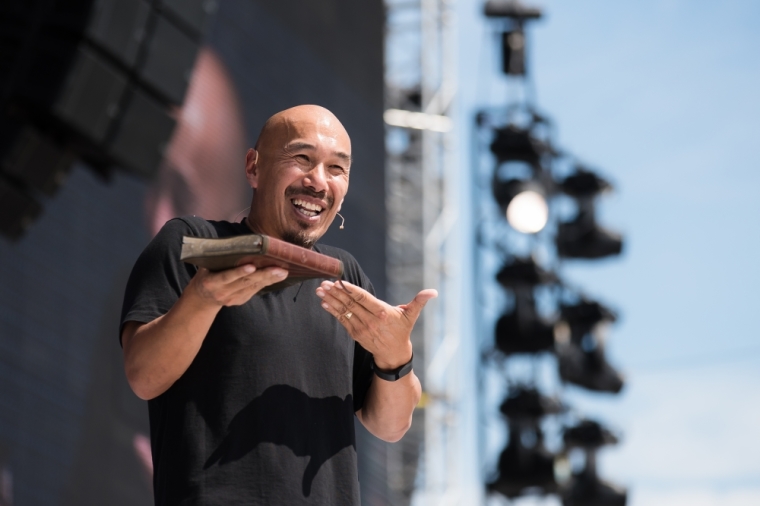 Francis Chan, a popular Christian author, is urging Christians to think about sharing the gospel as an impossible task like raising the dead, because to be a good evangelist you need "a miracle."
Speaking at the Exponential conference for church planters, which was recast via webinar Friday, Chan, author of the bestselling book Crazy Love, told attendees that too often Christians tend to come up with strategies to reach the lost when one ought to think of evangelism as going to a cemetery to physically resurrect people. For evangelism to be successful, a miracle must happen, he said.
Chan used to not believe in miracles doctrinally but his theology began to change about ten years ago when he starting believing and praying fervently for a friend named John, who was physically blind, to see.
"I knew that there was nothing physically I could do to make John see. It was going to take a miracle of God or nothing," Chan said. "But I feel like sometimes we don't think of evangelism in those ways. We almost feel as though there is something we can do to help it along."
Such fleshly impulses to help evangelism along are not grounded in the Bible, he said.
"When Scripture talks about those who don't know Jesus, it uses words like deaf. It uses words like blind. It even uses words like dead, which makes you blind and deaf also," he mused, referencing 1 Corinthians which "tells us that the natural man cannot understand these spiritual things."
But because Christians do not sufficiently consider this, they do not get on their faces to seek God, he added.
By contrast, abiding in the Vine does not require work, and that is the only way to produce fruit.
Chan then recounted that one of his mentors, a pastor friend from India, called him in distress, grieving over another Christian leader he heard who had recently had a moral failing.
"Francis, sometimes I come to your country and I talk to some of your leaders even and I walk away going 'God, I wish that person knew you,'" this pastor said to him.
Through tears, he continued, "I don't get the sense that they know [Jesus] or that they want to know him. They know a lot about him, but do they know Him? ... Sometimes I feel like that the people in America, they are happy to hear from Moses ... Don't they know they can walk up the mountain [to meet with God] themselves?"
"Sometimes we're content with the podcast, we're content with the book, we're content with the sermon, we're content to hear and take a selfie with someone who has been with Jesus," Chan said.
Another pastor, also from India, told Chan that he had been studying great moves of God.
"You know how such movements start? The movement starts when the founder really knows Jesus," this pastor told him.
"You know how movements die?" he added, "when the followers only know the founder."
Chan further emphasized that the church would do well to live what Jesus prayed for in John 17, that the church would be one just like he and the Father are one so that they would believe that the Father sent him.
"I guess what I'm trying to do is get us to think through what we are trying to do, which is raise the dead. And it is not going to happen through our cleverness. It is going to happen by men and women being so attached to the Vine and the fruit is just going to happen. And it's going to happen, when men and women, called the Church, are so united that a miracle happens," Chan said.
"I believe in personal evangelism, we have to do that. The future of the Church depends on the average person being able to preach the gospel. But I also believe that there's an apologetic in scripture that says the world's going to believe when the church lives like the church and they become one," he concluded.