Franklin Graham: 'State of the Union Can't Be Fixed Unless We Repent of Our Sins'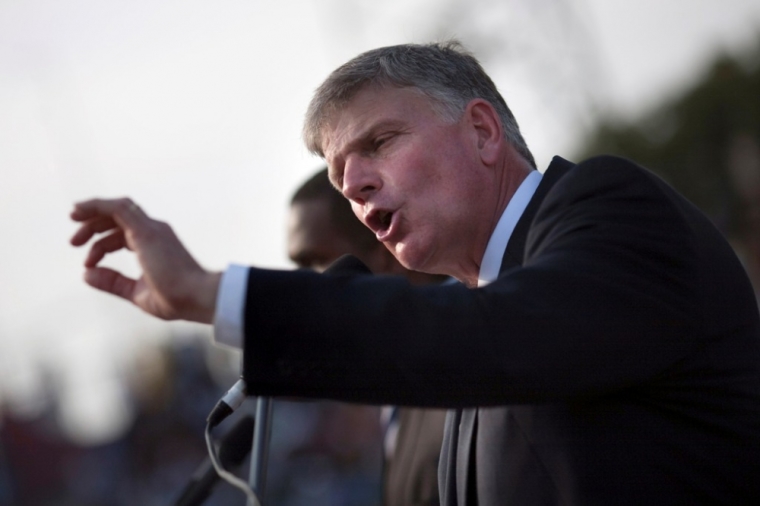 Just hours before President Barack Obama delivered his final State of the Union Address to a joint session of Congress on Tuesday, leading Evangelist Franklin Graham issued his own opinion on the state of affairs in the U.S.
While Obama concluded his address by asserting that the "state of our union is strong" and spent much of his speech highlighting what he believes to be the economic and social progresses of the last seven years, Graham, the president of the Billy Graham Evangelistic Association, took to Facebook Tuesday afternoon to argue that the state of the union is "broken" morally and spiritually.
Graham, who is also the president of the Samaritan's Purse humanitarian organization and a frequent commenter on current events, argued that the problems the U.S. faces cannot be resolved unless the nation repents of its sins.
"I can tell you the state of our union. Our nation is broken — it's broken morally; it's broken spiritually; it's broken politically; it's broken racially," Graham wrote. "The state of our union cannot be fixed unless we repent of our sins individually and ask our nation to do the same."
While Graham believes that the spirit of America is broken and the country is in a moral decline, Obama argued that it is the spirit of America that helped lead to many major changes under his administration, including the Supreme Court's ruling last June that legalized same-sex marriage.
"In fact, it's that spirit that made the progress of these past seven years possible," Obama said. "It's how we recovered from the worst economic crisis in generations. It's how we reformed our healthcare system, and reinvented our energy sector; how we delivered more care and benefits to our troops and veterans, and how we secured the freedom in every state to marry the person we love."
"But such progress is not inevitable," Obama continued. "It is the result of choices we make together. And we face such choices right now. Will we respond to the changes of our time with fear, turning inward as a nation, and turning against each other as a people? Or will we face the future with confidence in who we are, what we stand for, and the incredible things we can do together?"
Graham has launched his Decision America Tour which consists of prayer rallies in each of the 50 state capitals this year to encourage Christians to get involved in politics and elections. Graham held a prayer rally in Iowa earlier this month and hosted a rally in Tallahassee, Florida, on Tuesday, which was attended by thousands. Graham is also hosting another prayer rally in the capital of Louisiana on Wednesday.
"I've just led a Decision America Tour prayer rally in the capital of Florida — No. 2 of 50! Now I'm on the way to Baton Rouge to pray with the people of Louisiana for their state and this nation tomorrow at noon," Graham wrote in his Facebook post. "Mr. President, I hope in the time you have remaining in office that you will turn to God for wisdom and direction about how to lead this nation. May your last 12 months be the best and most beneficial for this country. 'Blessed is the nation whose God is the Lord,' (Psalm 33:12)."
Contact: <ahref="mailto:samuel.smith@christianpost.com">samuel.smith@christianpost.com,
@IamSamSmith
(Twitter)