Franklin Graham Defends Trump, Blames Satan for Charlottesville Unrest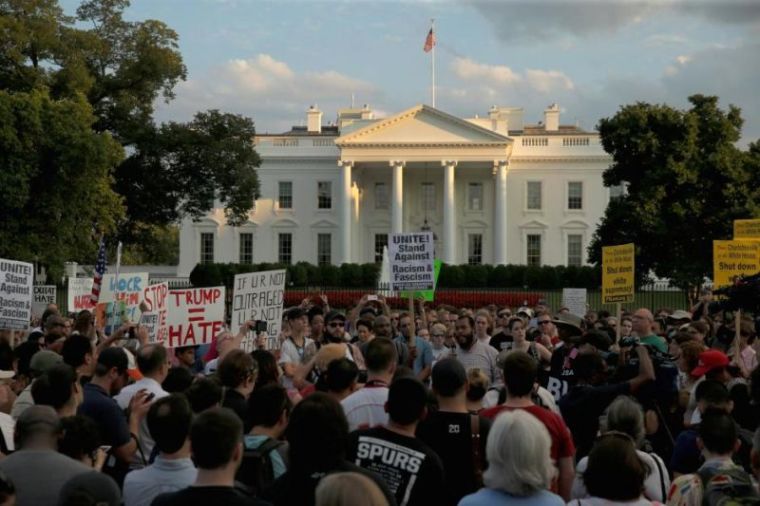 The president and CEO of the Billy Graham Evangelistic Association and Samaritan's Purse, Franklin Graham, defended President Donald Trump from critics saddling him with blame for the deadly clash that erupted at a white nationalist protest event in Charlottesville, Virginia, over the weekend and blamed "Satan" for being "behind it all."
"Shame on the politicians who are trying to push blame on President Trump for what happened in #Charlottesville, VA. That's absurd. What about the politicians such as the city council who voted to remove a memorial that had been in place since 1924, regardless of the possible repercussions? How about the city politicians who issued the permit for the lawful demonstration to defend the statue? And why didn't the mayor or the governor see that a powder keg was about to explode and stop it before it got started?" Graham asked in a statement on Facebook.
"Instead they want to blame President Donald J. Trump for everything. Really, this boils down to evil in people's hearts. Satan is behind it all. He wants division, he wants unrest, he wants violence and hatred. He's the enemy of peace and unity. I denounce bigotry and racism of every form, be it black, white or any other. My prayer is that our nation will come together. We are stronger together, and our answers lie in turning to God," Graham added.
On Saturday, James Alex Fields Jr., 20, an alleged Nazi sympathizer, reportedly plowed a car into a crowd of activists in Charlottesville, killing one person and injuring 19.
Democratic Virginia Gov. Terry McAuliffe was forced to declare a state of emergency and President Trump was broadly criticized for not immediately condemning white supremacists in a statement he made on the unrest.
"This isn't a time for innuendo or to allow room to be read between the lines. This is a time to lay blame," said Republican Sen. Cory Gardner on CNN's "State of the Union" Sunday.
"This president has done an incredible job of naming terrorism around the globe as evil," he continued. "He has said and called it out time and time again. And this president needs to do exactly that today."
Charlottesville Democratic mayor Michael Signer also said on the program that Trump courted white supremacists in his presidential campaign and it emboldened them to start acting out more publicly.
"Look at the intentional courting both, on the one hand, of all these white supremacists, white nationalist groups like that, anti-Semitic groups," Signer said. "And then look on the other hand, the repeated failure to step up, condemn, denounce, silence, you know, put to bed all those different efforts."
He explained, however, that the unrest over the weekend is much bigger than the president and was a reflection of the erosion of democracy.
"I hope that if the facts are there, that we vigorously prosecute this as a case of domestic terrorism," Signer added about the attack. "This cannot be tolerated."
Attorney General Jeff Sessions on Monday declared the incident "an unacceptable evil attack" and said it is "domestic terrorism."
"It does meet the definition of domestic terrorism in our statute," Sessions said on ABC's "Good Morning America."
"You can be sure we will charge and advance the investigation toward the most serious charges that can be brought because this is unequivocally an unacceptable evil attack," he added.
On Sunday, a White House official maintained that Trump condemned "all forms of violence, bigotry and hatred, and of course that includes white supremacists, KKK, neo-Nazi, and all extremist groups."
Vice President Mike Pence also denounced white supremacists on Sunday.
"These dangerous fringe groups have no place in American public life and in the American debate, and we condemn them in the strongest possible terms," he said.