Franklin Graham: Obama Leading America to Sinful Course; 'God Will Judge Him, Us If We Don't Repent'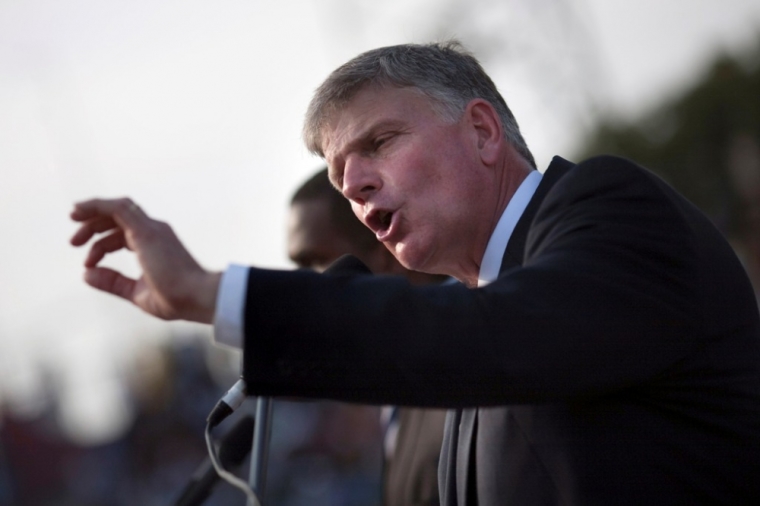 President Obama is calling the Supreme Court ruling on same-sex marriage a "victory for America," but the Rev. Franklin Graham warns Obama is leading the nation on a sinful course and "God will judge him and us as a nation if we don't repent."
At a Gay Pride event in the White House prior to the court ruling this week, Obama said, "There has been an incredible shift in attitudes across the country," and he was right, Graham wrote in a post on his Facebook page.
"But it is definitely not a shift for the good of America. The shift in attitudes he refers to is the moral decline we are seeing manifest daily around us," Graham, who leads the Billy Graham Evangelistic Association, wrote.
"Accepting wrong as right—accepting sin as something to be proud of. Yes, that's definitely a shift. Should we be surprised that he thanked the LGBT community for all that they had helped him accomplish during his time as president?" Graham added, noting that Obama said, "A lot of what we've accomplished over these last six and a half years has been because of you."
Obama also boasted about the fact that there were two states where gay marriage was legal when he took office, but now there are 37. "The President is leading this nation on a sinful course, and God will judge him and us as a nation if we don't repent," Graham concluded.
The Supreme Court ruled Friday by a 5-to-4 vote that the Constitution guarantees a right to gay marriage.
"No longer may this liberty be denied," Justice Anthony M. Kennedy wrote for the majority in the decision. "No union is more profound than marriage, for it embodies the highest ideals of love, fidelity, devotion, sacrifice and family. In forming a marital union, two people become something greater than once they were."
Obama called the decision a "victory for America."
"When all Americans are treated as equal we are all more free," he said.
Graham earlier warned that freedom of speech, press and religion will suffer greatly in Canada since it began federally mandating same-sex marriage in 2005, the Rev. Franklin America if same-sex marriage is legalized across America, just as it happened in neighboring Canada.
"[In Canada] If you say or write anything questioning same-sex marriage, you could face discipline, termination of employment, or prosecution by the government!" Graham wrote in a recent post.
"We need to realize that if our Supreme Court makes same-sex marriage the law in the United States, we will be in the same boat," he added, asking, "Will the next step be to ban us from speaking God's truth from His Word about this issue?"