Franklin Graham Praises Olympian Allyson Felix, Most-Decorated Track Athlete, Who's 'Grateful to God for It All'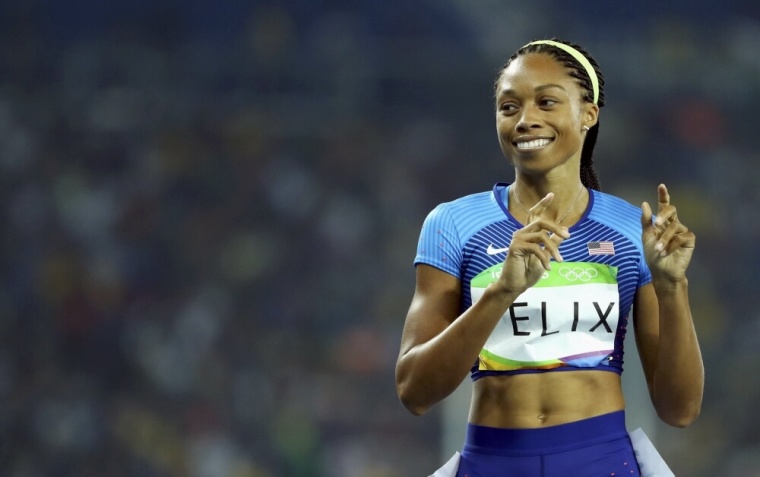 Evangelist Franklin Graham is praising Olympian Allyson Felix who became the all-time most decorated U.S. woman in Olympic track and field history during the Rio Olympics on Tuesday, after she won her seventh Olympic medal in the women's 400-meter final.
"Taking a silver in the 400 meter, Allyson Felix has just become the most decorated U.S. women's track and field athlete in history!" Graham wrote on Facebook. "She makes no secret of her Christian faith on social media. Before yesterday's big event, Allyson posted, 'I praise God for it all.' She has also said, 'I came to know Jesus Christ at a very young age. … Faith leads my life. That's definitely the reason that I run.'"
In a photo finish of the 400-m race Monday night, fellow Olympian Shaunae Miller of the Bahamas dove across the line, edging Felix for the gold by .07 seconds.
Writing on her Facebook page, Felix admitted that she was disappointed but remained grateful.
"Last night didn't end the way I had dreamed," she said. "I'm disappointed. I was quickly reminded of countless reasons to be proud, thankful and grateful. Bobby [Felix's coach] told me this is the most proud he has ever been of me. That resonated with me.
"Everything went wrong this year, but some way I made it here and won a silver medal. I fought as hard as I could and gave my all. I'm most proud of never giving up on my dreams in the face of adversity. I'm extremely humbled to now be the most decorated female Olympian in USATF history. All glory to God!" Felix said.
Prior to the race, Felix downplayed the possibility of breaking Olympic legend Jackie Joyner-Kersee's record.
In an interview with Time magazine last week, Felix spoke about Joyner-Kersee's unprecdeented Olympic record, saying, "All of her medals are individual, and I have a lot of relays, so to me I can never be in Jackie's category."
Joyner-Kersee, whose husband is Felix's coach, disagrees.
"She has surpassed me, regardless of relays or whatever," Joyner-Kersee told Time magazine after the race, adding that she's glad the most-medals title now belongs to Felix. "If someone's going to break the record, it should be Allyson. You can see joy in her running. Once she gets on the track, she's a storm — but a beautiful one."
Graham further noted that Felix still has another opportunity for gold in the 4x400 meter relay, which will take place Saturday, and cited Isaiah 40:31 which reads: "But those who wait on the Lord shall renew their strength; they shall mount up with wings like eagles; they will run and not grow weary, they will walk and not be faint."
Felix is sprinting in her fourth Olympics. She first received an Olympic medal at the 2004 Athens games, a silver in the 200-meter final.