Franklin Graham: US on 'Path of Destruction'
The Rev. Franklin Graham, son of the famous evangelist the Rev. Billy Graham, has stated that he believes that America is on a "path of destruction" due to yesterday's election results.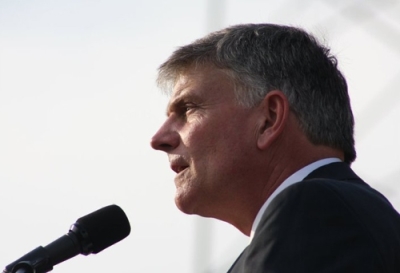 In an interview with CNN last night, Graham explained that the path he was referring to involved, among other things, the legalization of same-sex marriage.
"If we are allowed to go down this road in the path that this president wants us to go down, I think it will be to our peril and to the destruction of this nation," Graham said.
Yesterday, after years of successes at the ballot box, supporters of marriage as defined between one man and one woman were handed four defeats in four states. The people of Maryland and Washington states voted in favor of legalizing same-sex marriage, reaffirming legislation passed earlier in each state.
Voters in Minnesota stopped a constitutional amendment from being added to the state's constitution; same-sex marriage does, however, remain illegal in the North Star State. And voters in Maine approved a referendum legalizing same-sex marriage, several years after a similar measure failed.
During the 2012 election campaign season, the Grahams were heavily involved in socially conservative causes and the presidential race. The Rev. Billy Graham had endorsed Republican challenger Mitt Romney after meeting with the former Massachusetts Governor. Graham also endorsed Minnesota's marriage amendment.
"As a former resident with strong personal and ministry ties to the North Star State, I pray that the good people of Minnesota will show their support for God's definition of marriage, between a man and a woman," said Billy Graham.
This is not the first time that Franklin Graham has gained headlines for his critical remarks surrounding President Barack Obama. In May, Graham released a statement in response to the president's announcement in favor of same-sex marriage, declaring that Obama had "shaken his fist at the same God who had created and defined marriage."
"It grieves me that our president would now affirm same-sex marriage, though I believe it grieves God even more," said Graham in May.
 In October, Graham said in an interview with Piers Morgan on CNN that Obama's support for gay marriage was a "big problem."
"God instituted marriage. And for the president to now back something that is against God's position and – is a big problem for him with not only Evangelical churches, but African-American churches across this country who are very conservative," said Franklin Graham.
The ad campaigns by the Billy Graham Evangelistic Association caught the ire of many, including the North Carolina chapter of the NAACP. Signed by the state chapter's president, the Rev. Dr. William J. Barber II, and several clergy, the letter took issue with the support the Grahams were giving to conservative politics.
"We believe you have gone astray, seduced by the sirens of money and power. Again, in Christian love, we renew our challenge to you," wrote Barber.
Newsmaker of the Week - Franklin Graham