Franklin Graham's Operation Christmas Child Ships Over 60,000 Shoe Boxes to Philippines; Nonprofit Collects 9.8 Million Total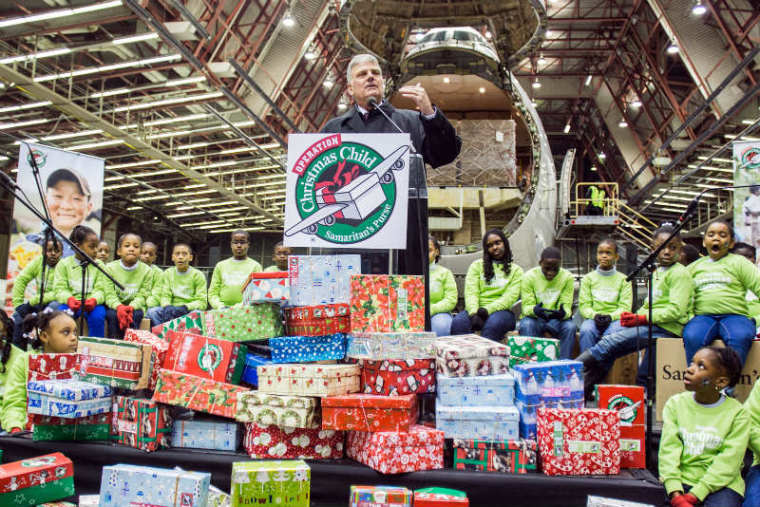 NEW YORK — Franklin Graham, president of nonprofit Samaritan's Purse, joined project organizers, local families and survivors of Hurricane Sandy at one of New York City's major airports this week to personally send off more than 60,000 gifts to some of Typhoon Haiyan's most vulnerable victims in the Philippines.
"Do you know what these gifts are going to mean to these kids? It means that somebody loves them, it means they haven't been forgotten. It will mean everything in the world. It will give these little kids hope," Graham told more than 300 attendees at Thursday's event.
The evangelist and son of the Rev. Billy Graham was flanked by young singers of the Christian Heritage Academy and a loaded Boeing 747 over his shoulder as he thanked participants during the send-off ceremony at Hangar 19 at John F. Kennedy International Airport (JFK).
"It's about letting the children of the world to know that God loves them and God hasn't forgotten them," Graham added in his interview with The Christian Post. His Samaritan's Purse international relief organization has been delivering emergency aid to the Philippines after Typhoon Haiyan forced more than 3.9 million residents to flee their homes. The powerful Nov. 8 typhoon has killed at least 6,000 people and injured more than 27,000 others.
The organization's annual Operation Christmas Child outreach will be delivering shoe boxes stuffed with goodies and essentials to thousands of Filipino children to let them know that Christians on the other side of the world are praying for them and contributing to their needs.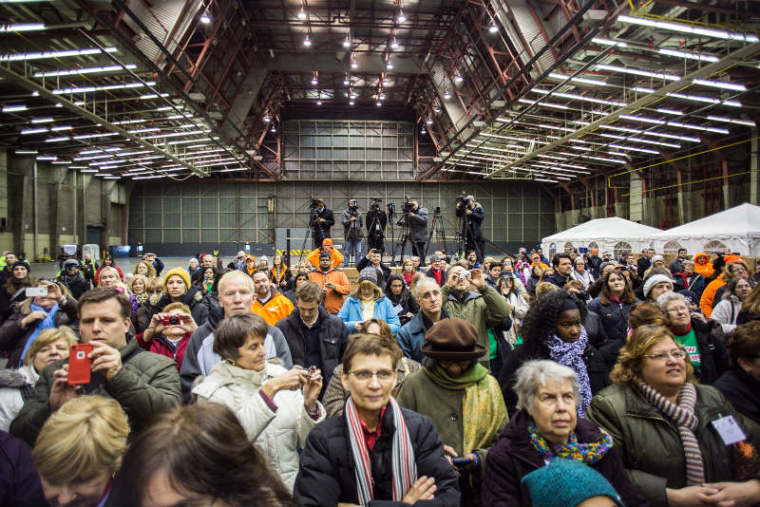 New York and New Jersey residents impacted by Hurricane Sandy were also on hand to share their contributions to Operation Christmas Child.
Diana Barbacena, 11, had to be evacuated from her home when Sandy hit the Atlantic Coast region in October of last year.
"I packed stuffed animals, which I think they will hold at night and fear for nothing and know that God will be in control," Barbacena reportedly shared, displaying the contents of one of her boxes (seen in the photo below).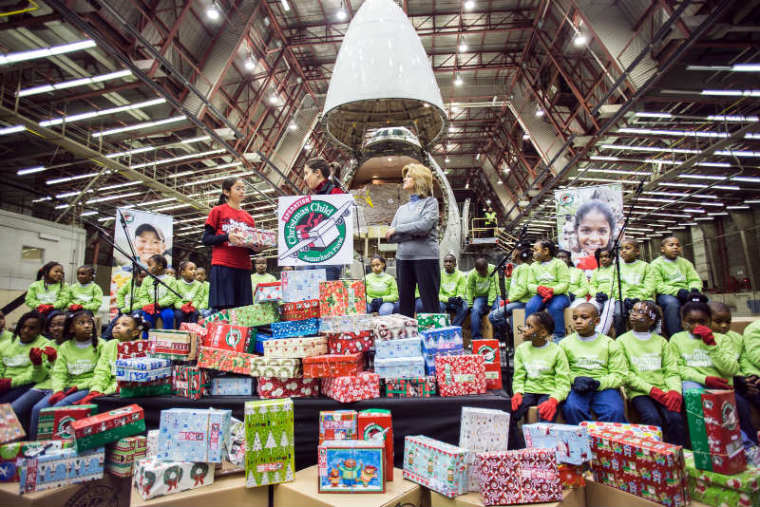 The Mergian family from upstate New York said they and their church, Grace Bible Church in Wappingers Fall, contributed 107 shoe boxes this year to Operation Christmas Child.
Jennifer Mergian, who helped coordinate her church's contribution efforts, told The Christian Post, "It was a really great experience for me." She shared that she and her husband, Aram Mergian, have been participating in the Samaritan's Purse outreach program for about 10 years.
"We went to the church, Vassar Road Baptist Church was the drop off location, and that was a really neat experience because we put all the boxes from our church onto a table and everyone laid hands and prayed over the boxes," said Mrs. Mergian. "That was really exciting."
She added, "For me, it was emotional. ... It was very moving to know that something so simple and so small can change the life of someone else."
Mr. Mergian said it was important for him to get their four children involved.
"I believe that at an early age, if they can just see that however small they may feel their involvement may be, it has an impact on people," he said. "They were very enthusiastically involved, as they are every year, in packing and purchasing and getting the shoe boxes out."
One of their children, 9-year-old Grace, joined her parents at JFK for the special send-off ceremony, but was a bit bashful to talk with CP. She managed to share, however, that among the many items she and her siblings were sending to the Philippines were crayons, markers and gloves.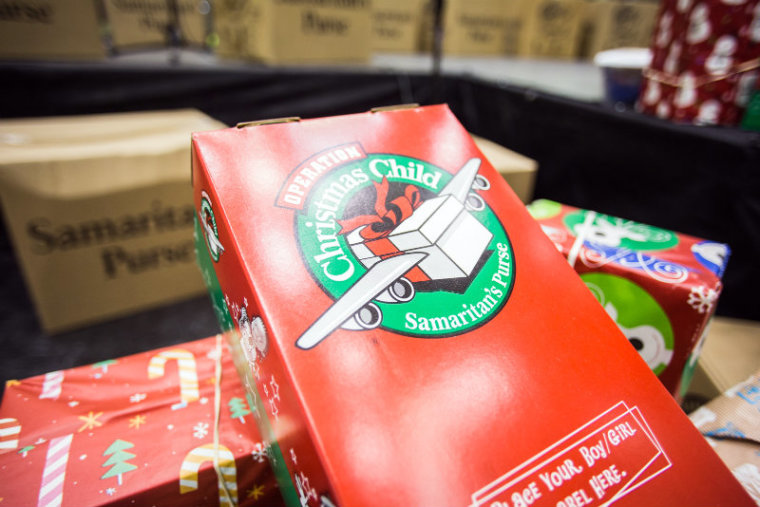 Paul Delmadge, the gentleman who directed the Christian Heritage Academy singers during their upbeat rendition of "Joy to the World," told CP that the Brooklyn, N.Y., private school had been participating in Operation Christmas Child for about four or five years.
"We hope that they get an understanding of what it really means to give," Delmadge said of students' participation. "We want to make sure that they understand that this experience is not just a regular Christmas experience, but it's showing the heart of God."
Samaritan's Purse was founded in 1970 by Bob Pierce. Operation Christmas Child, celebrating its 20th anniversary this year, has collected about 9.8 million shoe boxes this year that will be sent to children in more than 100 countries on six continents. Graham, also president of the Billy Graham Evangelistic Association, recently co-authored a book on the annual holiday outreach effort titled, Operation Christmas Child: A Story of Simple Gifts.
Learn more about the Operation Christmas Child send-off at JFK International Airport by watching the video below: