Fred Price Jr. Will Return to Helm of Crenshaw Christian Center After 'Serious Personal Misjudgments'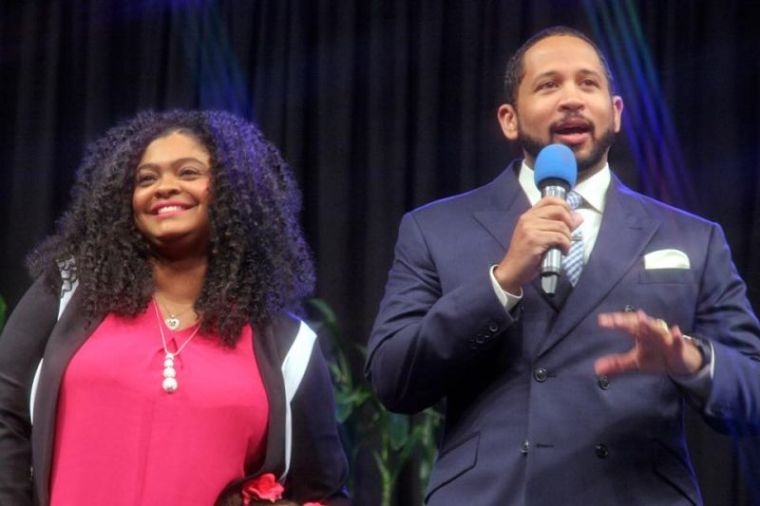 A year after he stepped down over "serious personal misjudgments," Pastor Fred Price Jr. and his wife Angel are expected to return to the helm of the 28,000-member Los Angeles-based Crenshaw Christian Center in California this summer, church officials confirmed Monday.
"We've been in anticipation almost from the day that he scheduled his hiatus and everything and so the congregation is even more excited," CCC Pastoral Executive Assistant Lynne Williams told The Christian Post in an interview Monday. She said Price is expected back in the pulpit sometime in July.
"In the office here, we're all planning and preparing for his return. We don't have an exact date or anything but we know that it'll be sometime this summer. We're just all in that vein. Every auxiliary, every department, it's just an exciting time for us, we're just looking forward to it — he and first lady Angel being back, operating in their role as pastor and first lady," she said.
Price shocked his congregation last June when he announced that he would be stepping down from ministry due to "serious personal misjudgments" without elaborating on any details. The announcement had come just over eight years after his father, Dr. Frederick K.C. Price, handed over the reins of the megachurch to him in 2009.
"I have struggled with and am correcting and making amends for serious personal misjudgments which have affected my life and my family and which I deeply regret. I have betrayed the trust of God, my family and you my church, and for that I am so sorry. Therefore, I'm gonna step down as pastor at this time," he said.
A post by the church on its Facebook page earlier this month shows photos of Price and his family addressing the congregation on Easter Sunday with a message that said: "When you have God on your side you have the best! You're a winner! Jesus is all that we need to live this life victoriously. You can trust God with your life!"
When asked what insights Price shared with the congregation on Easter Sunday, Williams explained that he talked about getting the opportunity to spend some time with his family.
"He really just talked about him and his family having an opportunity to really spend some quality time apart from the church duties, which as you might expect require quite a bit of time and attention as pastor and everything," Williams said.
"And so just to have time you can dedicate fully to your wife and children is something that every pastor needs the opportunity to make time to give to the family ... His father, Apostle Price, has always been a very strong advocate of family first. And of course that's right in line with the Word of God. And so for Pastor Price Jr. to take this time and opportunity to spend time with his family ... has just been extremely important and we are happy," she said.
When asked how she would respond to critics who might have concerns about Price's return to the pulpit or the timing of his return, Williams said his critics would have to talk to God about those concerns.
"I wouldn't say he is coming back to the pulpit so soon. It's been at least a year since he made that transition and during this whole period of time he has been under the watch, care, covering and submission to Apostle Price. So he hasn't been without spiritual guidance and covering," she said.
"For the people who might have a challenge with his return, I would have to say that's something that they would have to address with the Lord. For us here, you have to trust God. Christ is the head of the church and he knows what he is doing.
"Because we have confidence in the Lord and the leadership that God has placed over us. We have to remember that this young man is a young man who has grown up in the Word, who has taken the Word of God to be the guide for his life, who has listened to the voice of God and continues to submit himself to the will of the Lord and so if someone has a challenge with his returning into the position of leadership then that is the discussion that they have to have with the Lord themselves," she added.
She said she personally has no "qualms" with Price's return despite not knowing the details behind his decision to step away from the pulpit in the first place.
"I have no idea personally of what the challenges were. However, I truly admire and deeply respect his decision to step aside for a time to allow the Lord to do whatever needs to be done in his life personally ... so that in going through the refining fire we come out as pure gold and that's the expectation that I have," she said.
"Every last one of us will make missteps. However, the wonderful thing about the God that we serve and the Father who loves us is that He doesn't count our missteps against us and His gifts and callings are without repentance as long as we stay submitted to the Word of God."