Friends of Heroic Southwest Pilot Tammie Jo Say She Gives 'God the Credit' for Safely Landing Plane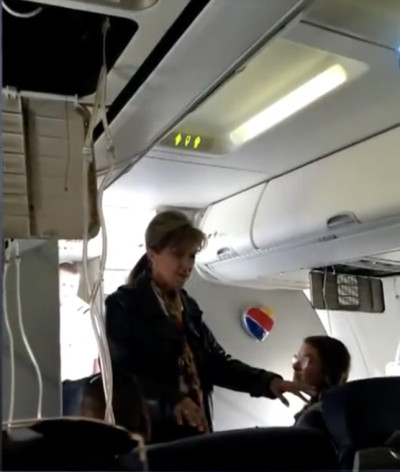 Tammie Jo Shults, the pilot who safely landed Southwest flight 1380 after the plane's left engine exploded, is giving "God all the credit" after the frightening incident, according to her Christian friends.
"We have a Lord that transcends our daily trials. I give God the credit," Shults told her friend, Cindy Foster, her college roommate at MidAmerica Nazarene University, CBN reports.
"Like many of our alumni, Tammie Jo Shults exemplifies all that MNU is about," Kevin Garber, MNU director of alumni, said in a statement. "I think her strong Christian faith combined with her tenacity and persistence kept her calm in the face of a terrifying situation."
The 56-year-old retired Navy pilot, who was the first woman to fly the "Top Gun" F-18 Hornet, was hailed a hero after she was forced to make an emergency landing at the Philadelphia International Airport on a flight from New York to Dallas when one of the two engines blew and the plane began to rapidly descend with 144 passengers and five crew members onboard.
"Everybody is talking about Tammie Jo and how cool and calm she was in a crisis, and that's just Tammie Jo," Rachel Russo, who attends church with Shults, said. "That's how she's wired."
There was one fatality, however, because as the plane's left engine exploded shrapnel from the explosion blew out a window and Jennifer Riordan, 43, was partly sucked out of row 14. The married mother of two died due to blunt impact trauma to the head, neck and torso.
Many of the 144 passengers who survived the frightening flight praised Shults for safely landing the plane.
"The pilot Tammy Jo was so amazing! She landed us safely in Philly," said Amanda Bourman on Instagram. "God sent his angels to watch over us."
Passenger Alfred Tumlinson told The Associated Press: "She has nerves of steel. That lady, I applaud her. I'm going to send her a Christmas card — I'm going to tell you that — with a gift certificate for getting me on the ground. She was awesome."
Another passenger, Diana McBride Self, thanked Shults on Facebook for her "guidance and bravery in a traumatic situation," adding that the pilot "came back to speak to each of us personally."
"This is a true American Hero," McBride wrote. "God bless her and all the crew."
Shults is married to a fellow pilot, and she and her husband have two children. She was once quoted as saying that sitting in the captain's chair gave her "the opportunity to witness for Christ on almost every flight."