Game of Thrones Author, George R.R. Martin, Offers to Show 'The Interview' in His Theater; Calls Sony Move 'Corporate Cowardice'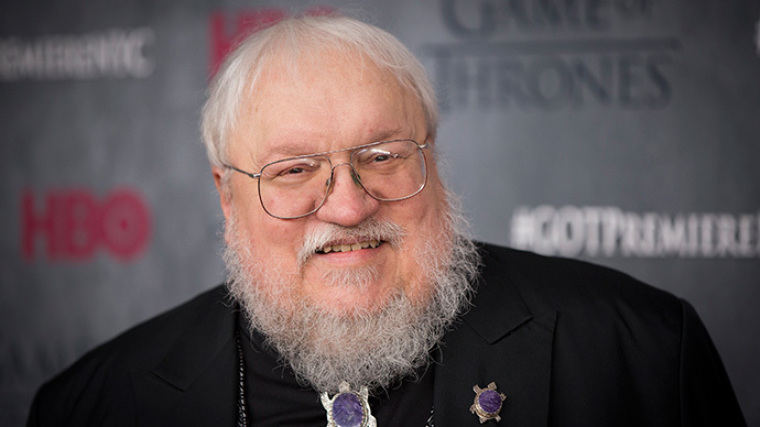 Fantasy writer George R.R. Martin whose popular book series "A Song of Ice and Fire" was adapted to create the HBO hit series "Game of Thrones," called Sony Pictures and major movie theaters corporate cowards Wednesday for cancelling the release of the controversial movie, "The Interview", and offered to show it in his own theater instead.
Sony and most major movie theaters declined to keep supporting the movie this week out of fear and precaution after hackers, confirmed by the FBI Friday to have been sponsored by North Korea, threatened a "9/11"-style attack on theaters that would dare screen the film scheduled for a Christmas day release.
"This one is surreal. In a stunning display of corporate cowardice, Regal, AMC, and every other major theatre chain in the United States have cancelled their plans to show the new Seth Rogen/ James Franco comedy THE INTERVIEW, because of – yes, seriously, this is not a SOUTH PARK sketch (though I expect it soon will be) – threats from North Korea," wrote Martin on his blog.
"The level of corporate cowardice here astonishes me. It's a good thing these guys weren't around when Charlie Chaplin made THE GREAT DICTATOR. If Kim Jong-Un scares them, Adolf Hitler would have had them sh*tting in their smallclothes," he continued.
"The Interview" features an assassination attempt by doltish journalists against North Korean leader Kim Jong Un which ends with the violent killing of the reclusive nation's leader.
"There are thousands of small independent theatres across the country, like my own, that would gladly screen THE INTERVIEW, regardless of the threats from North Korea, but instead of shifting the film to those venues, Sony has cancelled its scheduled Christmas rollout entirely," lamented Martin.
"I haven't seen THE INTERVIEW. I have no idea how good or bad a film it is. It might be hilarious. It might be stupid and offensive and outrageous. (Actually, I am pretty sure about the 'outrageous' part). …it astonishes me that a major Hollywood film could be killed before release by threats from a foreign power and anonymous hackers," he said.
"For what it's worth, the Jean Cocteau Cinema will be glad to screen THE INTERVIEW (assuming that Sony does eventually release the film for theatrical exhibition, rather than streaming it or dumping it as a direct-to-DVD release), should it be made available to us. Come to Santa Fe, Seth, we'll show your film for you," he ended.
Many entertainment and political luminaries like 2012 GOP presidential nominee Mitt Romney have spoken out against the decision to cancel the release of the movie.