'Game of Thrones' Season 6 Spoilers: Is Sansa Pregnant?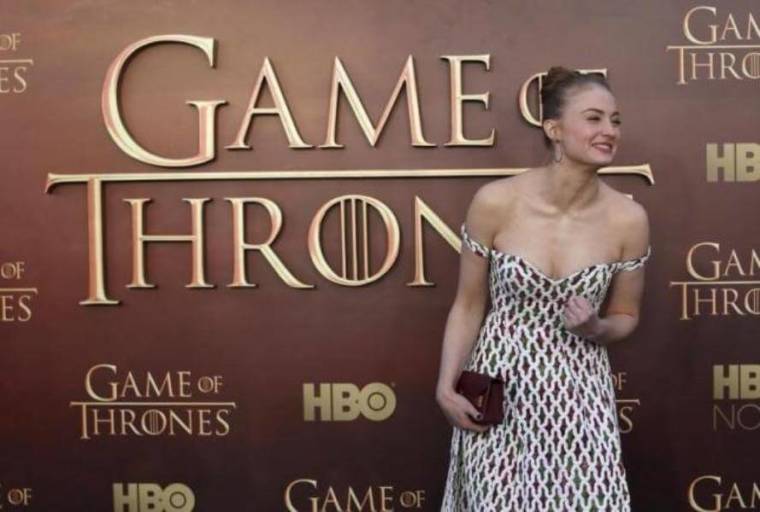 One of the Starks is expected to have an interesting storyline in the upcoming season of "Game of Thrones."
There have been rumors regarding Sansa Stark's fate in the upcoming episodes to come of the hit HBO series. The previous season ended with her escaping from Ramsay Bolton, played by Iwan Rheon, with Theon Greyjoy, played by Alfie Allen.
With that, there are rumors revealing that Sansa could be pregnant in the episodes to come. The photos posted by Express show her wearing a large cloak that is supposedly hiding her belly bump. Fans are speculating that her pregnancy could be due to her controversial encounter with Ramsay in the previous season.
Nevertheless, Sansa seems to be doing her best to travel across Westoros. Sophie Turner, the actress behind the character of Sansa, recently spoke about her character's exciting storyline. According to Turner, Sansa will be having an exciting run for the season to come.
As reported by Entertainment Weekly, she said, "I mean this season is a really, really big one for Sansa. It's probably her best season yet. It's her really coming into her own. She, this season, really commands the respect that she deserves and she grabs hold of it and she runs with it and it's really good."
In addition, she promised fans that the upcoming storyline will have fans excited for Sansa. She said, "Fans are finally getting that storyline that you've been craving for the past five seasons. It was amazing because the past five seasons, it feels like it's been building up and up to that."
She explained that the season will have a lot of shocking events that will surprise many of the fans. Many of the characters are expected to go through several developments and progressions, not just Sansa. With that, there will surely be a lot of action involved in season 6.
"Game of Thrones" season 6 is expected to air this Apr. 24.