Gatlinburg Wildfires: 4 Things You Should Know About Worst Tennessee Fire in 100 Years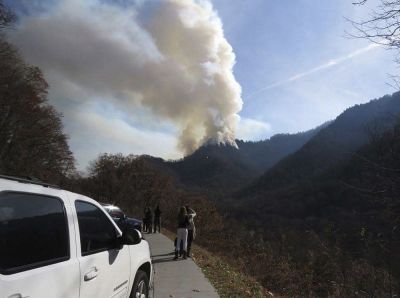 The death toll rose to 13 on Friday as officials in Tennessee continue to investigate the cause of the massive wildfires that have destroyed homes and businesses in Gatlinburg and surrounding areas where over 5,000 people are still without power.
Over 14,000 residents and tourists were evacuated from Gatlinburg on Monday, as fires spread from the Great Smoky Mountain National Park into the city, AL.com reports, adding that as many as 50 people are still listed as missing as of Friday.  
As many as 1,000 homes and businesses have been destroyed, mostly in Gatlinburg but also in Pigeon Forge and the Great Smoky Mountains National Park, where fires have scorched 17,000 acres in the region which is home to "the most-visited national park in America," according to The Washington Post.
As the search for survivors continues, the Tennessee Emergeny Management Agency has established a hotline so people can report their missing relatives at 1-800-824-3463, or 1-800-TBI-FIND.