Geminid Meteor Shower 2012 Live Stream NASA: Watch Online December 13, 14 (Time, Video)
Geminid Meteor Shower 2012 Live Stream NASA: Watch Online December 13, 14 (Time, Video)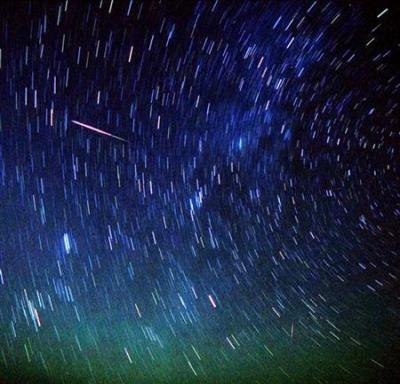 The Geminid meteor shower 2012 will peak overnight on Dec. 13 and Dec.14 and even though it is less well known than some of the other popular annual meteor showers, it is expected to be one of the most spectacular light shows of the year. It can be watched online through free live stream (details below).
Following the popular Perseids meteor shower earlier this year in August, the Geminids meteor shower could be even better.
The Geminids meteor shower was first recorded as seen in the 1830s, making it one of the more relatively new showers. At that time only about 20 meteors per hour were seen, however, that has increased significantly over recent times and the Geminids are expected to reveal as many as 80 to 120 meteors per hour at its peak.
Experts are advising that the meteor shower will peak at about 2 a.m. On Dec. 13 and Dec. 14.
Earthsky has reported, "With no moon to ruin the show, 2012 presents a most favorable year for watching the grand finale of the meteor showers. Best viewing of the Geminids will probably be from about 1 a.m. to 3 a.m. on December 14."
Other advice being given to sky-gazers is to ensure you find a good dark viewing spot away from city lights and if in your back yard, you should turn off all the lights – the darker you can make it the more clearly you will be able to see the night sky.
At this time of year, those hoping to catch the meteor shower are also advised to wrap up warm as it will be much colder than it was in August for the Perseid meteor shower. Hot drinks as well as binoculars or even telescopes would also be a good idea.
The Geminid meteor shower is named is named after the constellation Gemini, as that is roughly the area in the sky where the meteor shower tends to appear.
This shower has been created from 3200 Phaethon – the left-overs of a larger comet that has shed much of its outer appearance over time.
The bright light show is created by the meteors meeting the Earth's atmosphere as our planet passes through the trail of the comet, and as the comet's orbit moves in line near the Earth.
This shower also does not appear due to the comet's tail, but with the particles associated with a rocky object, named 3200 Phaethon – which scientists have said is probably a chip from a nearby asteroid.
For those unable to be outside for the meteor shower or who cannot get a good view from where they are, it is possible to watch the meteor shower online through free live stream via NASA's cameras by clicking HERE.
Geminids Meteor Shower 2012 - Dec 13th,-14th, 2012.