George W Bush Defends Religious Freedom at Southern Methodist University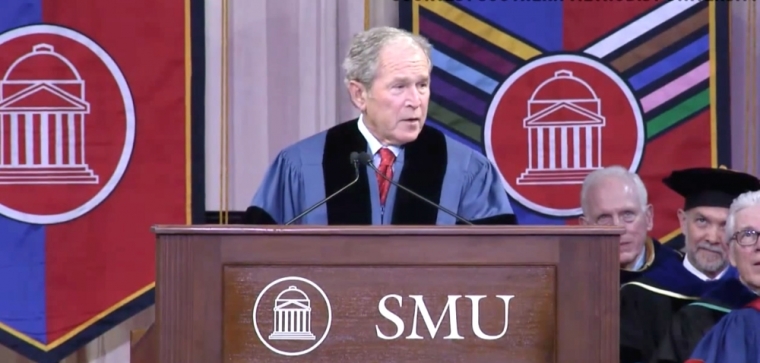 In his first commencement speech since leaving office, former President George W. Bush defended religious freedom and faith at Southern Methodist University's Saturday, and told graduates that God's "grace and unconditional love" will sustain them.
"In our hearts we believe all are created equal under God. The liberty we prize is not America's gift to the world, it is Almighty God's gift to humanity," Bush said at the university in Dallas, Texas, talking about reasons why the graduates should be optimistic and hopeful.
"You can be hopeful because there is a loving God," he added, after listing a few other reasons. "Whether you agree with that statement is your choice, it is not your government's choice," he said. "It is essential to this nation's future that we remember that the freedom to worship who we want, and how we want — or not to worship at all — is a core belief of our founding."
Bush said this as the nation continues to debate for and against religious freedom laws to allow businesses to operate based on their religious beliefs and conscience concerning issues such as providing or denying services to gay customers.
"I believe that the Almighty's grace and unconditional love will sustain you," Bush told the graduates. "I believe it will bring you joy amidst the trials of life. It will enable you to better see the beauty around you. It will provide a solid foundation amidst a rapidly changing, somewhat impersonal, technologically driven world. It will show you how to love your neighbor, forgive more easily, and approach success with humility—and failure without fear."
He added, "It will inspire you to honor your parents and eventually be a better spouse and parent yourself. It will help you fully grasp the value of life—all life. It will remind you that money, power, and fame are false idols. And I hope and believe that God's love will inspire you to serve others."
Bush's wife, Laura, graduated from SMU in 1968, and the university hosts his presidential library.
This was Bush's first commencement speech since he left office, and he joked about it.
"You know, when I mentioned this speech to some pals, they were surprised I was going to give it," he said. "I haven't given a commencement address since leaving office. You know, my decision is quite practical. So I got a call from my landlord – Gerald Turner [SMU president]. Rather than raising the rent or threatening to withhold our security deposit I was relieved to hear President Turner ask if I believed in free speech. I said yeah. He said, 'Perfect. Here's your chance to give one.'"