Gerber Spokesbaby for 2018 Is First Ever With Down Syndrome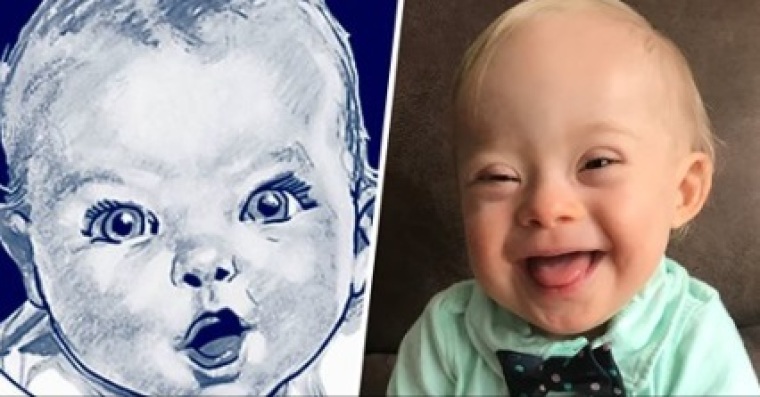 Every year the Gerber Products Company chooses the smiling face of one toddler to be their spokesbaby, and for the first time ever they selected a child who has Down syndrome.
Lucas Warren is the adorable 1 year old from Dalton, Georgia, who was announced as the 2018 Gerber Spokesbaby on Facebook this week.
"Congratulations to our 2018 Gerber Spokesbaby, Lucas! Welcome to the family!" the company captioned a photo of baby Lucas smiling from ear to ear wearing dress clothes complete with a bow tie.
The iconic charcoal-sketched logo displayed on all of Gerber's packaging was done 90 years ago. It features a 4-month-old Ann Turner Cook, who was a Gerber baby in 1928 and is still alive and living in Florida, according to Inside Edition.
Since then, the baby food company has hosted an annual photo contest where judges review the entries to find "children from birth to preschool age whose photos displayed expressiveness and consistency with Gerber's heritage. Since the inception of Photo Search seven years ago, Gerber has awarded eight (twins in 2013) tiny tots the Photo Search crown."
This year's winning submission was submitted by the baby's mother, Cortney, who told the "Today" show she "entered the Gerber contest on a whim after a relative pointed out an ad seeking submissions. After posting a photo of Lucas on Instagram using the contest's hashtag, Cortney and her husband, Jason, received the news that their son had been chosen from more than 140,000 entries to be the 2018 Gerber Spokesbaby."
"He's always been such a good baby. I've never met anyone to come into contact with Lucas and not smile," the proud mother continued. "We didn't actually find out he had Down syndrome until he was born. It's never once changed how we felt about him, he was always our son."
"He may have Down syndrome, but he's always Lucas first," Cortney maintained. "He's got an awesome personality and he goes through the milestones of every child. We're hoping when he grows up and looks back on this, he'll be proud of himself and not ashamed of his disability."
Lucas' joy and his smile has won him $50,000, which his family says will be used for his education. The sentiment brought his father to tears.
"As a father, seeing your child exceed in life and go to school is something I'm looking forward to," the emotional dad said. "I just want him to look back and say, 'Look at everything that I did.'"
The President of Gerber, Bill Partyka, told "Today" that Lucas' expression captured the hearts of the Gerber team.
"Every year we choose the baby who best exemplifies Gerber's longstanding heritage of recognizing that every baby is a Gerber baby," Partyka noted. "This year, Lucas is the perfect fit."
Lucas' parents believe this will encourage the community of those living with disabilities to know they are just as valuable as everyone else.
"We are hoping Lucas looks back on it and feels proud," Courtney added. "I hope it shines light to the special needs community, showing that they are just like you and me. They should be accepted not based on their looks but based on who they are."