Gingrich Featured on Ad Promoting Adultery
Considering its finances, the Newt Gingrich campaign would normally like free press and an endorsement. However, this is one billboard the Former Speaker of the House probably doesn't want his face on: an advertisement promoting infidelity.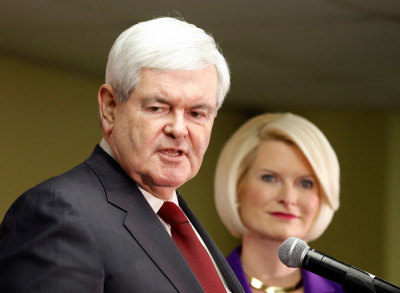 Route 1 in Pennsylvania showcases a billboard with Gingrich's face and the words "Faithful Republican, Unfaithful Husband." The ad is in reference to Ashleymadison.com, an online cheat dating site for married people. Their motto, featured on their website, is "Life is short. Have an affair."
Why would a hook up website want to feature a GOP candidate?
"Now that Newt is the leading contender in the race for the GOP nomination, we felt compelled to make a point to illustrate how times have changed when a serial divorcee/adulterer is capturing the hearts of the American people," site founder Noel Biderman said in a statement on Friday.
"Gingrich proves that marital fidelity has no bearing on someone's ability to do a job," Biderman continued. "Rather than judge him, Americans have finally embraced the reality that affairs are commonplace, and perhaps paradoxically, might be an indication of great leadership to come. He is not the first nor last politician who will step outside of their marriage."
Gingrich has been married three times and has a history of extra-marital affairs. While Gingrich has risen to the top of recent GOP polls, many evangelicals have reservations about voting for someone with such a poor marriage record.
Gingrich divorced his first wife after 18 years of marriage after reportedly cheating on her. Next, he cheated on his second wife with Callista, then a young committee staffer, while he was Speaker of the House. During this period he was also attacking President Bill Clinton for having an affair with Monica Lewinsky. His second marriage ended after 18 years and he married Callista.
The Christian Post Daily Report 12.22.11
Despite Biderman's assertions that adultery is now mainstream, Megan McCain, daughter of Senator and former GOP presidential candidate John McCain, told MSNBC that she believes a candidate's fidelity plays an important part in the campaign process.
"I don't find this woman terribly appealing considering the fact that she is a mistress," McCain said of Callista.
In an effort to try and quell evangelicals' concerns, Gingrich has recently vowed to remain faithful in his current marriage.
"I … pledge to uphold the institution of marriage through personal fidelity to my spouse and respect for the marital bonds of others," Gingrich wrote to The Family Leader, a pro-family group earlier this month.
It's uncertain whether this will be enough to propel evangelical voters to overlook his personal history. However, the fact that Gingrich's recent poll numbers have been bouncing around at the top of the GOP field indicates that evangelicals are at least willing to consider looking past his history.
However, Ross Douthat of the New York Times has severe doubts about what a Gingrich nomination would mean for evangelicals:
"The real issue for religious conservatives isn't whether they can trust Gingrich. It's whether they can afford to be associated with him."
Douthat as well as some prominent Christian leaders have indicated that as a whole Christians can -and perhaps should - forgive Gingrich's past mistakes. However, this does not necessarily mean that the religious right should choose a person with such a flawed personal history to be the "standard bearer" for the "very cause that he betrayed."
Some evangelicals share in Douthat's concern, however, they also state that they are not looking for a politician to be the "standard bearer" for certain causes.
Denny Burk, associate professor of Biblical Studies at Boyce College, writes that "to expect candidates to set the world to rights and to make all things new is to expect way too much."
"No matter who I vote for, I am not expecting that person to usher in the kingdom of God or to be the walking fulfillment of Christian virtue. As a Christian, I am not looking for the GOP to elect a messiah. That job is already taken."