'Girl in Progress' Director Says Movie Can Change Lives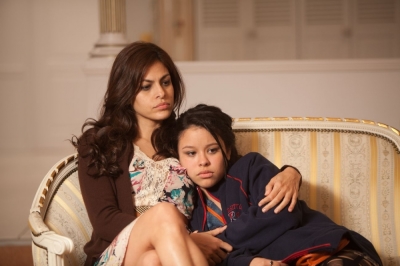 With Mother's Day fast approaching, director Patricia Riggen has brought a coming of age story to life in the movie "Girl in Progress," which she believes could be a chance for mothers and daughters to bond over real issues at the box office.
"Girl in Progress," directed by Riggen, follows Cierra Ramirez's character Ansiedad, a 13-year-old girl trying to deal with life with her neglectful mother Grace. Grace, played by Eva Mendes, is a struggling single mother who is dealing with financial issues and bad relationships while trying to raise her daughter.
Riggen recently told The Christian Post that the movie, which debuts on May 11, is a realistic depiction of struggles that many mothers and daughters go through with a message that can impact and entertain audiences at the same time.
"Anisdad wants love from her mom, she wants attention. Grace loves her daughter, she's out there working but she's a young mom who doesn't learn to be the mom," the director told CP. "It was very human, very real, something we don't see much in movies. We don't get the real thing."
Riggen said she was proud of Mendez's performance since the actress had never been in a role like "Girl in Progress." Mendez has previously starred in "Hitch," "Training Day" and "The Other Guy."
"I'm very proud of what Eva did with the character. We have never seen her play a role like this," Riggen said. "She made a constant conscious effort to be that working girl with her two jobs and the flaws and the mistakes and the struggles. She's showing us a part of her that's very real."
The director said she was also lucky to work with Ramirez in the 17-year-old actress' first movie.
"It was a very complex character we knew it was going to be very hard to cast because of her young age. She's playing a role within the role within the role," Riggen explained. "It goes from innocent and naive, good girl to a geek, to rebel and bad girl. She goes through all of these stages and we were very lucky to find her."
"Girl in Progress" caught the attention of the National Hispanic Christian Leadership Conference, which said the movie had the power to impact thousands.
"The message is bound to impact thousands of lives and bring a life altering revelation, which will transform the homes of Hispanic families across the nation," The NHCLC said.
Riggen, a Mexican-American, said she was honored to hear about the acclaim her film received from Hispanic Christians. As a mother of a young child, the director admitted that her work has not been easy on her family.
"I'm a mother myself, I have a 4-year-old. I'm making a sacrifice too," Riggen admitted. "When I hear things like this I know it's worth it. In a way I'm contributing to my community and gender."
Raised in a Catholic family, Riggen said she valued the loving family atmosphere she had growing up. For this reason, she directed "Girl in Progress" and said she is happy that it has the potential to change lives of women everywhere.
"I like the idea of exploring mother and daughter relationships. When I was growing up, being a teen was hard," Riggen said. "It makes me extraordinarily happy that the movie can help women communicate and find love and happiness."