God Says 'I Love Sex' on Church's Billboard in Pennsylvania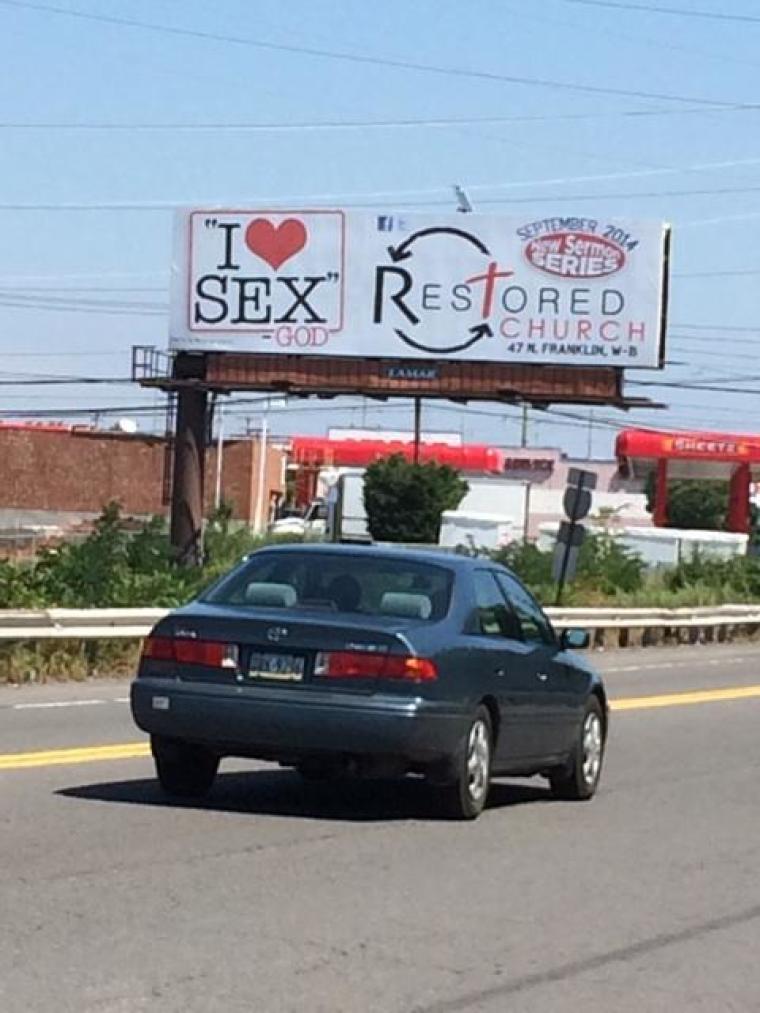 "I love Sex," says God, according to the Restored Church in Wilkes-Barre, Pennsylvania. A non-denominational church in Pennsylvania took out a billboard ad on a local highway on Wednesday that have heads turning after reading, "I love Sex" – attributed to God.
The billboard is located on route 309 in the town of Wilkes-Barre, and as soon as it went up, it started garnering attention. Pastor Dan Nichols of the church said they took the billboard out to attract members to their church next month when a three-part sermon series will begin that discusses sex based on the book Song Of Solomon.
"It's in every single sitcom. It's on the radio. I mean, you go on any major news media outlet and there's stories about sexuality," Nichols said in an interview with WNEP News 16 in Pennsylvania. "If the culture can be so bold, I think the church can be so bold and speak directly on the subject and be up front about it."
Not everyone is viewing it as a means to an end for the gospel. The pastor of another local church wrote a letter to a newspaper editor in the city, saying the sign was misleading at best, and a gross misstatement at worst.
"Our holy God is not a commodity that is to be marketed like a new line of clothing, new car or a new business; the world uses sex to sell everything," Pastor Vincent O'Boyle of the Church On The Square said in the letter to The Times Leader. "The church is supposed to be different from the world. God the father, Jesus Christ and the Holy Spirit are capable of evoking a reaction whenever they desire for whatever reason they desire."
The pastors at Restored Church say they want to promote a healthy marriage, and taking the shame out of sex. Pastor Tim Walker isn't phased by the negative reactions the billboard may receive. ""It really doesn't rattle us when we get negative feedback. We really put a lot of thought into this," Walker said.He acknowledges that the church is getting praise as well as criticism for the way they are going about attracting new visitors to the church.
This isn't the first time a church has used a billboard to promote discussion about sex and love. In September 2013, a church in Richmond, Texas took out a billboard that said "Love Sex", promoting a sermon series that looked at sex through a biblical lens and seeing it as a powerful "expression of love".
The "I