Got Empty Church Pews? 'Mass Mob' Brings 1,000 Congregants to Pack Houses of Worship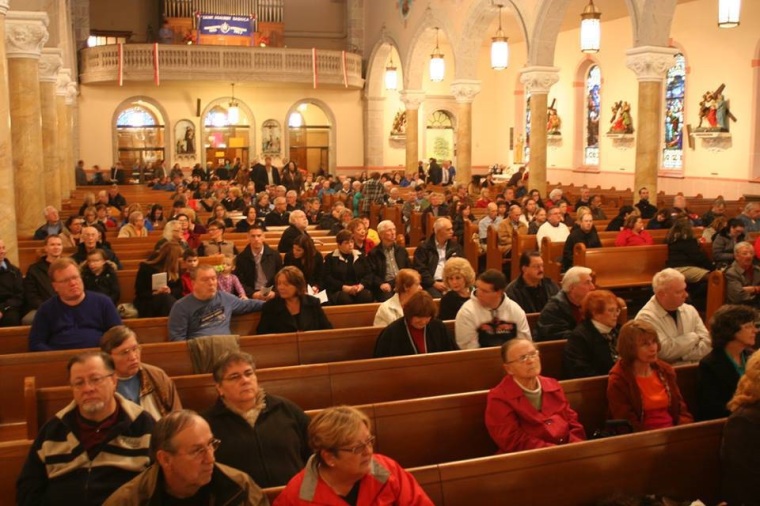 Inspired by the concept of "flash mobs," an organization based in Buffalo, New York, has opted to perform "Mass Mobs" wherein large numbers of people agree to meet at a given local Catholic congregation.
Whereas a "flash mob" will do various performances or things in a random public space and then disperse, this group will surprise a given church to attend mass at their facility.
Known as Buffalo Mass Mob, the group has been to various historic Catholic churches in Buffalo which have been struggling to fill their pews.
Alan Oberst, organizer of Buffalo Mass Mob, told The Christian Post that the group was created for multiple reasons.
"We have been concerned about church and parish closings, the lack of appreciation for urban parishes, and the feeling that urban parishes have been 'left behind' in Catholic America (not just in Buffalo), even as they are on the front lines of social and economic challenges facing their surrounding neighborhoods," said Oberst.
"Also, we wanted to find a way to 'invite' people to visit the beautiful and inspiring grand churches in the city, supporting them with their presence and contributions, even if for a single Mass."
Buffalo Mass Mob held their first "Mass Mob" at Saint Adalbert Basilica last November, with a large crowd attending the worship service at the congregation.
"Last weekend we held our 6th Mass Mob (Buffalo Mass Mob VI) at Assumption Church in Buffalo's Black Rock neighborhood," said Oberst.
"The church is celebrating its centennial, and the priest is celebrating the 40th anniversary of his ordination. We've been holding Mass Mobs about every 2 months."
Buffalo's Mass Mob has started to influence others. Recently a group called "Detroit Mass Mob" was launched with a similar mission, though geared towards churches in the Motor City.
"Our intention is to show solidarity of our Catholic faith through respect for our old historic churches in the Archdiocese – and maybe across Michigan," noted Detroit Mass Mob on its website.
"This whole concept requires very little effort. You simply show up for a Mass (as announced) at a beautiful old historic church. These century old churches are awe inspiring."
Oberst of Buffalo Mass Mob approved of the new group, telling CP that they are "so proud of the Detroit Mass Mob effort."
"It can be gut-wrenching hearing stories of the struggles of parishes with weekly attendance, repairs, and paying utility bills," said Oberst.
"Mass Mob participation has grown, to nearly 1,000 at the last Mass Mob. We've been humbled by the way the Mass Mob idea has gone viral, seeing it bringing people together and making a difference in cities around the country."