Greg Laurie at Harvest Georgia: What's the Meaning of Life?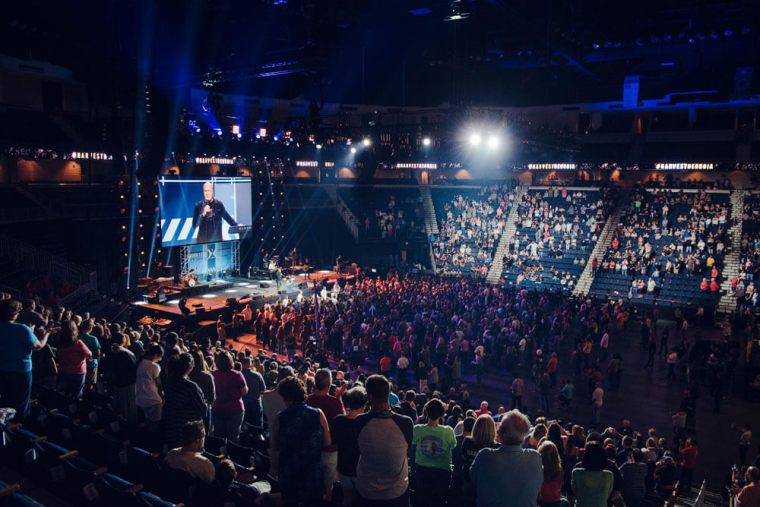 On the second night of Harvest Georgia in Duluth, megachurch Pastor Greg Laurie addressed the question, what's the meaning of life, and shared the Gospel with thousands of people.
"What are we looking for in life? …We're looking for purpose, we are looking for meaning," Laurie, the senior pastor of California's Harvest Christian Fellowship, told the crowd. There was a total of 7,500 at Infinite Energy Arena as well as an online attendance of 7,505 people over Friday and Saturday.
Every thinking person asks basic questions about life at some point in their lives, the pastor continued. The questions include why am I here, what happens when I die, why am I so empty inside and what is the meaning of life?
Laurie added that everyone is empty inside, and explained that God made us, and only He can fill the emptiness.
"Everyone is lonely," Laurie continued, and pointed out that top late night Google searches are the terms "porn, lonely and suicide," and there's possibly a link between these words.
Everyone feels a sense of guilt, he added. "We feel guilt because we are guilty."
There's also universal fear of death, Laurie said. "Deep inside, we're afraid to die," he added.
"One day, death will knock on every door… but if you put your faith in Jesus Christ, you don't have to be afraid to die because you will live beyond the grave," Laurie went on to say.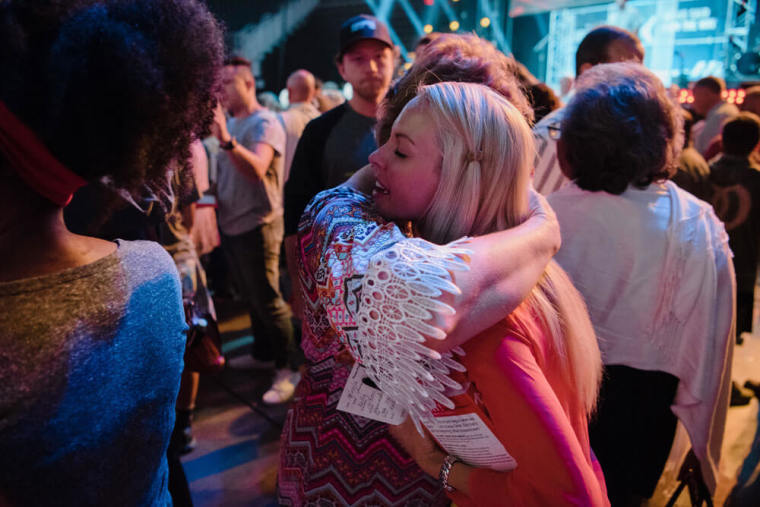 Accepting Jesus Christ many years ago "is the best decision I have ever made," he told the listeners.
The pastor then shared the parable of the prodigal son, as found in Luke 15:11-32.
In the story, a father has two sons, and the younger one asks for his inheritance. After wasting his fortune he becomes destitute, and returns home with the intention of begging his father to be made one of his hired servants. He expects his relationship with his father to be severed. However, the father welcomes him back and celebrates his return. The father says the family will have a feast to celebrate the return of the son because he was lost and is now found.
God is like the father in this story, and we are like the son who ran away, Laurie told the crowd, and pointed out that the father allowed the boy to choose, and accepted him back as he was.
Sin can be fun, but there are repercussions, the pastor said. "Sin promises freedom but brings slavery. It promises success but brings failure. It promises life, but the Bible says the wages of sin are death. It promises pleasure but it ultimately brings misery."
We shouldn't think we'll come to Jesus after cleaning up our lives; Jesus will do that for us, the pastor said. "God accepts us as we are, but doesn't leave us that way," he added.
"Get home before dark, as your Father is calling you back," Laurie told the people at the event, and explained that going to church doesn't make anyone a Christian. "There has to be a moment when you ask Jesus to come into your life. You need to be born again, spiritually born in a new way in the relationship with God."
To "come home," a person must first admit that she or he is a sinner, understand that Christ died on the cross for them, repent or turn away from their sin, and must receive Christ into their life, Laurie explained, and read Revelation 3:20, "Here I am! I stand at the door and knock. If anyone hears my voice and opens the door, I will come in and eat with that person, and they with me."
Like the previous night, Laurie asked those who prayed to accept Christ after his message to come down to the ground to profess their decision. Hundreds responded to his call.
A total of 735 people made professions of faith on Saturday in response to the message, and on Friday, at least 400 people accepted Christ.
For the free, three-day Harvest Georgia crusade, about 1,000 volunteers and 200 partner churches are involved.
More than 5.6 million people have attended Harvest events since 1990, with over 476,000 of them making professions of faith.