Greg Laurie's Megachurch Grapples With Difficult Questions Nonbelievers Ask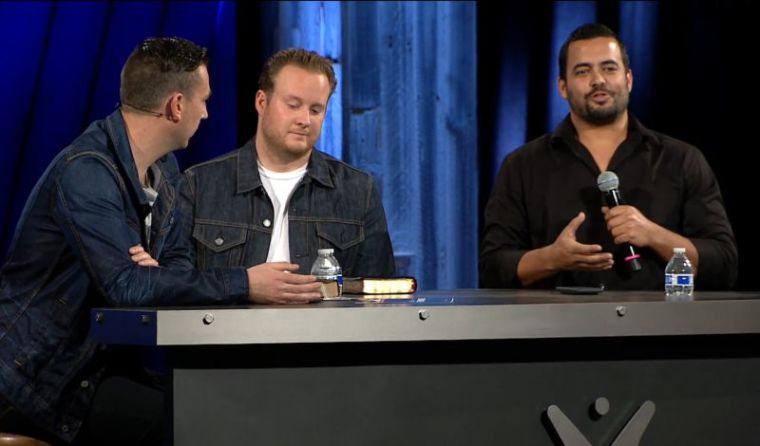 Pastor Greg Laurie of California's Harvest Fellowship Church spoke to his congregation about the importance of being prepared to answer difficult questions from nonbelievers. Pastor Jason Powell moderated a panel comprising of Pastor Laurie's son, Jonathan Laurie, and former Navy SEAL Chad Williams, who dealt with such questions.
In the beginning of his message Thursday night, Pastor Greg Laurie quoted 2 Timothy 2:15, "Be diligent to present yourself approved to God, a worker who does not need to be ashamed, rightly dividing the word of truth." And also 1 Peter 3:15, which reads, "But sanctify the Lord God in your hearts, and always be ready to give a defense to everyone who asks you a reason for the hope that is in you, with meekness and fear."
Apologetics, Laurie told the congregation, means giving a logical explanation. However, it's not all logic, as there's an element of faith involved in following Jesus, he cautioned.
We have to be "a witness, and not a prosecuting attorney," the pastor added.
When Pastor Powell, Pastor Jonathan and Williams were called to the stage to answer questions sent by church members, the first question posed was "why is there suffering and evil if God exists?"
Williams, who was last posted in Iraq and is author of SEAL of God, said we need to look at the flip side of the question. If evil exists, that's proof that there is God, he argued. If God doesn't exist, then no evil can happen, he explained.
"The reality is God doesn't want people to suffer," he said, adding that we should look at the price He was willing to pay at the cross.
Williams asked if we really want God to deal with evil, then "what if He starts with us?" God is being patient because of us, he explained, and continued that He will certainly judge one day in righteousness, as the Bible says.
Pastor Jonathan was asked if the Bible has changed over time.
Jonathan referred to the Dead Sea Scrolls, a collection of some 981 different manuscripts discovered between the 1940s and 2017 in 12 caves in the immediate vicinity of the Hellenistic-period Jewish settlement at Khirbet Qumran in the eastern Judaean Desert, the modern West Bank.
These manuscripts confirm that the Old Testament has been accurately preserved, he said.
Another question read, "Who made God?"
Pastor Powell briefly answered the question by saying it's a wrong question. He explained, it sounds like how much does the color orange weigh, or what does the music note "C" taste like?
God is from everlasting to everlasting, Pastor Jonathan added.
Another question read: "How can Christianity be true if there are so many religions?"
"I think that's how truth is by nature," Williams answered. Truth is not based on our own opinion or authority, but on the authority of Jesus, who says whoever is on the side of truth "listens to Me," he said.
If two plus two is four, it excludes all other possibilities, Williams added. "Jesus is the only way, and that's the truth."
"Was Jesus a real person?" asked another member. The Bible, a collection of 66 books, is the earliest source of history and includes eye witness accounts, all pointing to Jesus, Williams said.
Jonathan answered the following question: What does it mean when Jesus said "I and God are one?"
The Father, the Son and the Holy Spirit are one being, Jonathan explained. It's difficult for us to understand, but they are not "each other;" they are all unique, and have personalities of their own and yet they are one, he added.