Grieving Man Pulled Over for Speeding Is Overwhelmed With Hope When Officer Offers Him Prayer Instead of Jail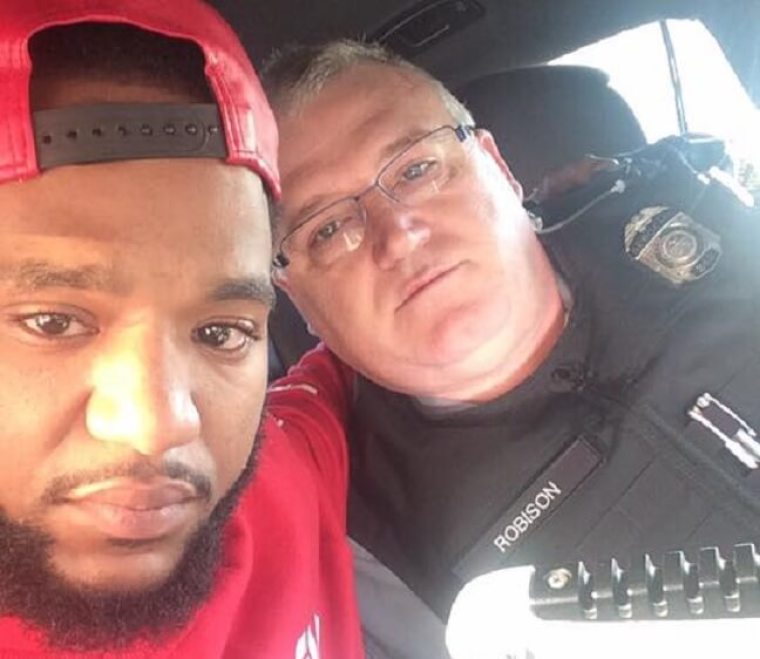 A grieving Indiana man who expected to go to jail when an Ohio police officer who pulled him over for speeding on Sunday was left overwhelmed with hope when the officer offered him prayer after learning his 15-year-old sister, Eliza Fletcher, had just died in a car crash.
"At 3 a.m. I got a phone call stating that my sister had been killed in a car accident due to some young dumb punk! I haven't slept and instantly got on the road. Of course we were speeding, trying to get back to Detroit. And we got pulled over in Ohio," wrote Mark Ross in a now viral Facebook post with a photo of him and the officer, Sgt. David Robinson.
Ross, who said he had an outstanding misdemeanor warrant, explained that he was certain the encounter would have landed him in jail but what happened next left him stunned and grateful.
"I knew I was going to jail due to a petty warrant. The police called Wayne County and they refused to come get me because of the distance. I explained to the officer that my sister had died and that I needed to get to my mother ASAP. I broke down crying and he saw the sincerity in my cry. He REACHES OVER AND BEGAN PRAYING OVER ME AND MY FAMILY. He offered to bring me 100 miles further to Detroit because they towed the vehicle. Everybody knows how much I dislike cops but I am truly grateful for this guy. He gave me hope," Ross wrote.
According to "Inside Edition," Ross, who does not own a car or have a driver license, had convinced a friend to drive him from Indiana to Detroit, Michigan, to be with his family. The friend's driver license, however, had been suspended and he also had an outstanding warrant.
Lt. Robert Sellers with the Ohio State Highway Patrol confirmed with The Christian Post on Thursday that Sgt. Robinson "shared a prayer" with Ross and tried to help him get to Michigan to be with his family. But contrary to several viral media reports, those plans "fell through."
"Sgt. Robinson and Mr. Ross shared a prayer together and we tried to make arrangements to assist him to get to Michigan but those arrangements fell through so we didn't drive him to Michigan. And that's the inconsistency in the stories that got widely reported," Sellers told CP.
He added that despite not being able to help Ross get to Michigan, the interaction between Ross and Robinson is a good example of public servants doing their jobs.
"It's a story about a public servant doing our jobs. He went that extra step and so we have received numerous phone calls and numerous interview requests for Sgt. Robinson and so there has been a real outpouring of support around the whole story," Sellers said.
"Geographically they were in the southwest part of Ohio and what we offered to do if Mr. Ross could have got somebody coming from Michigan, we offered to start relaying him to the North and kinda meet in the middle. So that was the assistance that we offered but those plans didn't come to fruition," he added.
He said Ross and Robinson parted ways at the jail where he had accompanied his friend to post bond.
"I believe that when we could not solidify plans we parted ways there at the jail where Mr. Ross was posting bond for the guy who was driving the car," Sellers said.
And with the reports of deadly encounters between black men and police officers dominating media headlines in recent weeks, Ross told "Inside Edition" that just experiencing an officer who was trying to help left him overwhelmed him with hope.
"It was just so overwhelming," he said. "They were trying to help us."
A GoFundMe campaign to raise funds for his sister's burial had attracted over $13,000 in donations as of Thursday morning.