Groupon Boycott a Success, Says Anti-Porn Group
The deal-of-the-day website Groupon has decided to discontinue its business association with a California-based torture porn group.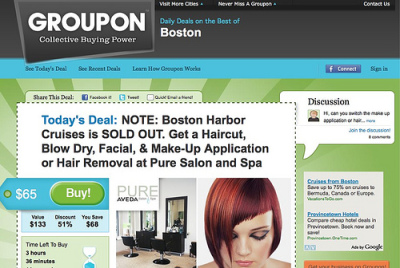 Morality In Media, an anti-porn organization that launched a boycott against Groupon over offering tours of a facility used by a business that sells torture porn, claimed victory.
Dawn Hawkins, executive director for MIM, told The Christian Post that while MIM cooperated with past boycotts, this was the first one the organization itself had headed.
"We are encouraged by the outcome and feel very confident in our united ability to challenge the pornography industry and the pornification of our society wherever possible," said Hawkins.
"This is the first boycott MIM lead … If boycotts are one way to be successful in this, we will certainly not shrink from them."
In April, MIM called for a boycott of Groupon after the website sent out thousands of emails offering coupons for tours of the San Francisco facility that Kink, a pornography business that sells torture porn, used for making its products.
Kink's studios are headquartered in an early 20th century building that was until the 1970s an armory for the National Guard.
Within a week, over 7,000 people had officially signed a pledge by MIM to stop using Groupon. By the time the deal site agreed to stop its business with Kink, the number had passed 20,000.
At the time, Groupon representatives defended the decision to send out coupons to Kink's studio, arguing that the torture porn business was still involved in local charities.
"Kink.com's owner is actually a fixture in the local community and regularly donates to local youth charities," said Groupon Support.
"We feel that because the business is an active good community citizen and the tour is historical and informational in nature (not to mention consensual) it's worth the experiment to run it."
In addition to individuals supporting the boycott, organizations like Citizens for Community Values, Girls Against Porn & Human Trafficking, American Family Association of Kansas and Missouri, Women for Decency, and the Arizona Family Council joined the cause.
According to Hawkins, MIM learned of Groupon's decision through an email sent by a Groupon executive that had been forwarded to their organization.
"Given all the feedback from partners like you, we reassessed not only consumer interest but also merchant opinion on these types of deals. It's never our intention to offend customers or our business partners," read the email in part.
"As a result of the feedback from the Armory deal, we have stopped running adult deals across the country. The Playboy Mansion deal ran after the 'non-adult' rule was enacted in the U.S. due to a process glitch. As soon as we became aware of it, the deal was immediately taken down."
In a statement provided by Groupon to CP, Groupon spokesperson Julie Mossler explained that the deal site would still consider deals across the country, but not for "adult merchants."
"We continue to test different types of deals in markets around the country, and run categories that represent the interests of each local customer base," said Mossler.
"While we aren't currently accepting new adult merchants, guidelines for what types of businesses we do and do not run are constantly reevaluated on a local level."
Introducing Groupon Now! (VIDEO)