Hallmark Ignites Controversy Over Gay Couple Valentine's Day Ads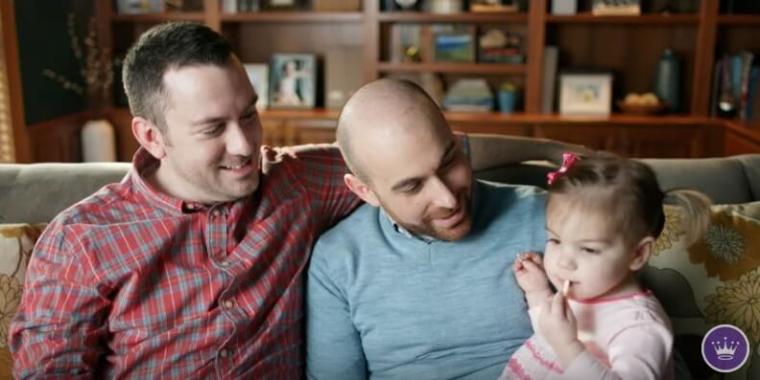 Hallmark, America's largest greeting card company, has stirred controversy over a Valentine's Day ad campaign that features gay couples talking about their romantic relationships.
The company launched the social media marketing campaign last month, stating that they wanted "to celebrate romantic love of all kinds."
Known as #CareEnough, the series of video ads posted to YouTube include two same-sex couples, one being two men with a daughter and the other two women.
"Hallmark's #CareEnough campaign at Valentine's Day highlights the real love stories of real couples," said Hallmark. "In video interviews, each diverse couple demonstrates the emotional power of a Hallmark card and heartfelt message."
Katie Yoder of the conservative online publication News Busters argued last week that "Hallmark is using politics to sell cards this Valentine's Day."
Opposition to Hallmark's ad campaign has inspired people who support traditional marriage to call for a boycot against the greeting card giant, using the hashtag #BoycottHallmark on Twitter.
"Disappointed in @Hallmark Like so many other companies, you forget who your core customers are. #BoycottHallmark," tweeted Eileen McHaffie Hansen.
"Hallmark cards have gone full blown degenerate. #BoycottHallmark," tweeted an account doting the name Cultural Combat.
Rob Reeder, Hallmark's marketing manager of greetings, reiterated the company's stance in a statement, saying, "we share the caring stories of all kinds of couples because love is love."
"As demonstrated by this campaign, our Valentine's Day cards help people find the words to express themselves in a deeper, more meaningful way than with a text or post," he added. "A Hallmark card gets you started, and then you add your personal message to make it perfectly yours."
This is the second year that Hallmark has featured same-sex couples in their Valentine's Day ads.
"While Hallmark has made cards celebrating gay marriages since 2008, this campaign marks the first time the brand has featured a gay couple in an advertisement," noted Erik Oster of adweek.com in January 2015.
"Hallmark now joins a growing list of brands, including Honeymaid and Oreo, which value inclusion over any potential backlash from bigoted consumers."
Watch Hallmark's One Card Valentine's Day ad below: