Happy Birthday, Dr. Stanley: Why I'm Thankful For My Pastor
Charles Stanley has often been called "America's Pastor," and I'm grateful that I get to call him my pastor. On his 82nd birthday, I share some reasons why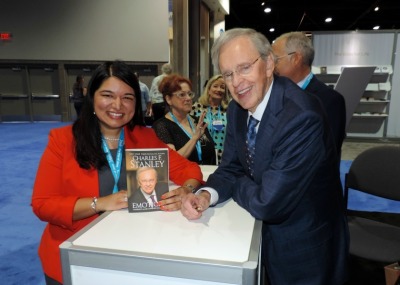 Earlier this year I attended the International Christian Retail Show in Atlanta, an annual gathering of authors, speakers, and publishers from around the world. When I heard that my pastor, Dr. Charles Stanley, was doing a book signing in the conference exhibit hall, I sheepishly showed up. "I promise I'm not stalking you," I told him with a giggle. "I just came by to cheer you on."
If ever I start to get overly skeptical about humanity, I just need to show up to a Dr. Stanley book signing and watch as long lines of people tell him their stories of how his messages have impacted their lives and helped transform their relationships with the Lord. As I stood back and observed loyal listeners and readers light up when it was their turn to shake his hand, I teared up and thanked God that I had been given the immense privilege of sitting under his preaching and teaching for my entire life. "Thanks for letting me be part of the fan club," I whispered to Phillip Bowen, the CEO of In Touch Ministries, Stanley's broadcast organization. "You're part of the family," Bowen responded.
In that moment I was reminded of how First Baptist Atlanta has been more than just my church for the past 30 years. It is indeed my family. And Dr. Stanley has been more than just the pastor. He has been my pastor. Today, as he turns 82 years old, Dr. Stanley remains like a grandfather in the faith to me and countless others who have been personally shaped by his ministry over the years.
When I reflect on Dr. Stanley's impact on my immediate family and my own walk with Christ, I'm filled with emotion. Perhaps it's because I think about the way he reached out to my parents 35 years ago, when my father – a new immigrant from India – started his first job at Georgia Tech in downtown Atlanta and 'just happened' to wander into FBA because it was across the street from his office. Dr. Stanley personally ministered to my father and discipled this young professor who was a recent convert from Hinduism to Christianity. A year later, in 1980, my mother would respond to Dr. Stanley's invitation after a fiery Wednesday night sermon and come to saving faith in Christ. As someone whose parents came to Atlanta from a foreign land not knowing anyone in this city – and, in my mother's case, not having a relationship with Jesus – I will be forever grateful for the ways Dr. Stanley and our entire church family prayed for, counseled, and loved on my family in those early years.
Another reason I'm overwhelmed is because I think about how Dr. Stanley's teaching has helped me grow in my knowledge and understanding of the Bible, and the ways God has used his messages – especially his Life Principles – to speak to me and guide my actions. Among Dr. Stanley's words of wisdom that echo in my mind when facing formidable circumstances or significant decisions are his exhortation to "Obey God, and leave all the consequences to Him," his reminder that "Genuine success is becoming the person God has called you to be and achieving those goals He has helped you set," and his reassurance that "When God calls you to do something, He will always equip you for it." These principles, rooted in scripture, have been like nuggets of gold that I have clung to tightly, especially during times of trial and transition in my life.
In addition to his preaching and teaching, I think about the times Dr. Stanley has personally encouraged me during different seasons of my life and I'm filled with many precious memories. I still remember how Dr. Stanley gave me my first "grown up" Bible when I was a spunky 6-year-old in First Grade ("Now Ruthie, you take good care of this," he admonished), how he encouraged me after my first acting role in our church's Middle School play ("She's a born leader," he told my parents), and how he came and spoke to my High School youth group ("Never sacrifice your future for the pleasure of a moment," he cautioned a room full of rambunctious teens). More recently, I was profoundly touched by how Dr. Stanley prayed with me during some of my most challenging days in college and grad school when I was in the midst of a religious liberty battle as a 22-year-old student. Each of these interactions left an indelible mark on my memory and still makes me smile to this day.
Many people know Dr. Stanley as the preacher they have watched on TV or listened to on the radio for decades, as his "In Touch" program airs on over 1,300 television stations and over 2,000 radio stations in 72 languages. Believers all over the world say they feel like they know him personally, and I've heard from numerous individuals that when Dr. Stanley looks into a TV camera, they feel like he is speaking directly to them in their living rooms or sitting across from them at their kitchen tables sharing valuable life advice from God's Word.
Others know Dr. Stanley as the leader who helped guide the Southern Baptist Convention as President during one of the most pivotal times in the denomination's history. Just last week I heard influential Christian leaders recounting Dr. Stanley's role in the SBC's conservative resurgence during the 1980's, as he led the movement to affirm the inerrancy of the Bible and put the focus back on uncompromising evangelism and the faithful proclamation of the Gospel message.
Still others have come to know Dr. Stanley as the prolific author whose writings have pointed them to the scriptures for practical answers to life's toughest questions. His books have taught millions how to discover The Wonderful Spirit Filled Life, how to rely on God to provide for Our Unmet Needs, and how to cultivate an understanding of Success God's Way.
Dr. Stanley has often been called "America's Pastor." I'm grateful that I can simply call him my pastor. Today, on Dr. Stanley's 82nd birthday, my prayer is that God will continue to strengthen my pastor, giving him renewed wisdom and energy as he boldly shares the truth of the Gospel from my home church in Atlanta to airwaves across the globe. I pray also that those of us who experience the gift of his faithful preaching and teaching week after week will be worthy stewards of all we have received.
Happy Birthday, Dr. Stanley… with love, admiration, and gratitude from a member of your church family. Thanks for being my pastor!
Ruth Malhotra works in Communications and Research and her areas of focus include religious liberty, family values, higher education, global missions, and grassroots politics. She is a contributor at the SixSeeds Faith & Family Channel on Patheos.com, where she frequently shares lessons on life, love, and leadership. A graduate of Georgia Tech where she studied international affairs and public policy, Ruth resides in Atlanta and is actively involved in her church and community. Follow Ruth on Twitter at @RuthMalhotra.