'Hee Haw' and Trump's 'Deplorables'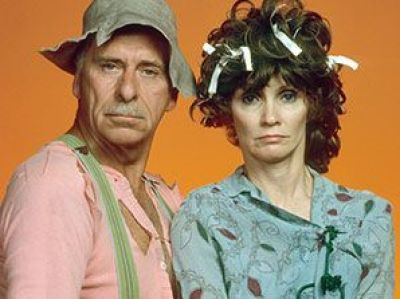 When "Hee Haw's" Gordie Tapp died recently, we lost an entertainment icon. His straw-hat TV character — Cousin Clem — was a mainstay in fictitious Kornfield County. "Where oh where are you tonight?" was his hallmark scene.
But his act and the show were almost short lived, part of the Rural Purge of rural-themed programs.
"Green Acres'" star, Pat Buttram (Mr. Haney), captured well this seemingly counterintuitive purge of 1971, "It was the year CBS cancelled everything with a tree in it — including Lassie."
From his New York office, CBS's Fred Silverman cancelled the popular "Hee Haw" its second year. But it went into live syndication and produced episodes for another twenty years for other channels. A steady stream of the biggest stars joined host Roy Clark, often at their request.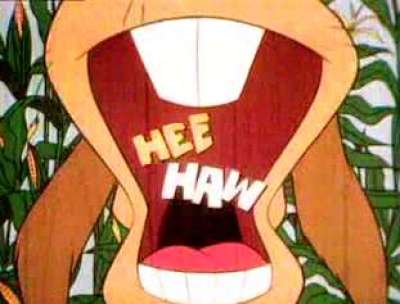 Forty-five years later we're experiencing the opposite, a Rural Surge of some key cultural signposts from music to politics, to "Fixer Upper's" Chip and Joanna.
"The Voice," "America's Got Talent" and "American Idol" have paraded a stream of country singers, like Carrie Underwood, Scottie McCreary, Kelly Pickler, and Grace VanderWall (at age 12). Prominent country stars and judges Blake Shelton and Keith Urban have become rock stars.
The Rural Surge was especially measurable in the 2016 U.S. Presidential election. Adam Wren's "I'm Still All Trumped Up" (Politico) affords a glimpse of this in predictive Vigo county (Indiana). Quotes about President Trump from two retired professionals sum it up: "I feel happy. I'm happy. I like what he's doing. You don't feel like someone is selling out the country — " To which her husband replied, "Or selling Christians down the river!"
While the Democrats seemed to target the urban votes like Silverman's scheme — calculating patterns of younger voters for bigger advertisers — Jared Kushner and Trumpism recognized young votes come from everywhere, even cornfields and evangelical churches. And big money doesn't buy votes from rural America. At the least, not in an election with Supreme Court justices out of sync with rural America.
The 2016 electoral map boasted a wide red swath of "rural" America, though missing many of the big cities. Perhaps this Rural Surge is in part the Junior Samples effect. Back in the early 1970s some might have seen the bumbling Junior Samples-type as a throwaway actor or as a "deplorable." However, Junior's genuine struggles before live microphones and hastily-produced cue cards endeared him to massive audiences. President Trump's regular faux paus before the media seemed to have the same effect during the campaign. The Junior effect resurfaced in an odd way, with a mélange of listeners identifying with a New Yorker's transparency accented with each odd moment before teleprompters.
"Hee Haw" and its rural motif struck a chord with American consciousness, and produced a variety show that would become the longest running in U.S. television history. The first episode in 1969 was thrown together in two weeks and filmed straight from cue cards.
The irony is that Gordie Tapp's American fame was nearly ephemeral with CBS's purge of "Hee Haw" and other popular shows like "Green Acres," "Mayberry R.F.D.," and "The Lawrence Welk Show."
In a sense, the Democrats' 2016 efforts did the same — for the most part winning major donors and urban voters while ignoring the larger landscape. The "Hee Haw" political landscape found entrenched rural Americans (and those in cities with traditional values) cognizant of Pyrrhic victories. They wanted long-term, systemic changes.
Perhaps the Canadians behind "Hee Haw" seemed to understand America better than Fred Silverman, the Buckeye-educated New Yorker whom Time dubbed "Man with the Golden Gut." Though he launched some real winners, some of my favorites, his stations forfeited successful shows that would find new and long-lasting life. Ironically, in 2016 another New Yorker weighed in on the American landscape, and from his tower implemented the Rural Surge. The "Hee Haw" analogy, like any analogy, is imperfect, but some of the likenesses are, at the least, uncanny.
In reality, there never was a Kornfield County, but it resonated with many Americans. And the biggest hoot, Gordie Tapp wasn't from Nashville after all — but Canada, along with the genesis of the 1969 show! Yep, from the Yongestreet Productions (named after a street in Toronto) to its two creators, John Aylesworth and Frank Peppiat — "Hee Haw" was Canadian born.
Congressional voices pressured CBS and other stations for more family-friendly programming, and the token release of "The Waltons" in 1972 surprised the executives. Instead of failing, it rose as high as number two, even though they stuck it in a poor time slot. "Little House on the Prairie" and other rural dramas would soon follow.
What the Canadians saw in the 1960s, and what Silverman cut then reintroduced in the 70s, were simple themes of rural simplicity. Having grown up in Buck Creek, Indiana, the "Hee Haw" episodes could have been filmed in our neighborhood. While millions laughed at Minnie Pearl and gawked at Nurse Good Body (Gunilla Hutton), I swear their sisters lived down our lane. Those hounds looked like the ones at my Uncle Buck's. And Cathy Baker could have borrowed those bib overalls from any one of my young aunts.
Our local bluegrass pickers had a better voice than Buck Owens, but they loved his lyrics and envied his teeth. But Roy Clark, who appeared on the most Hee Haw episodes of any actors, was a legend on all accounts. My Uncle Eddy had his personality. My Uncle Pete his voice. And uncles Johnny and Mike his guitar skills. But Roy had it all in one package.
LP's from "Hee Haw's" storied lineup were on my Grandpa's shelf. Into his mid-90s, he enjoyed the scratchy songs of his warn Tennessee Ernie Ford, Johnny Cash and The Buckaroos' albums.
Perhaps the 2016 presidential election was a rural surge and an urban purge? It was a moment when one party spent major advertising dollars on metropolis targets, and another took a simpler approach with more traditional values to rural voters.
This election wasn't to prevent channel drift, per se, but media rift. It was a corrective that realized that the voters that watched the very shows that lasted many years after New York cancellation, hadn't lost their deepest desires for civility and appreciation for straightforward lyrics.
Perhaps the Canadians got it right in the 1960's. Call rural voters hillbillies, country bumpkins, or blue-collar workers, but they're definitely not deplorables. From Pennsylvania to Arizona and from Florida through Idaho to Alaska, they represent most of the 306 electoral votes that determined our next president.
While millions laughed at Gordie Tapp's routines, turns out laughter was good for his own soul — at least sustaining life. He died Dec. 18th, 2016 — age 94! And he died happy and entertained crowds until the end. From nursing homes to cruise ships and charity events, he evoked smiles. So did the royalty checks from the longest-running variety show in our country's television history.
Cousin Clem was in the front row of the cornfield on "Hee Haw's" first episode. His passing prompts us to think of his vintage sketch but this time ask of basic American values, "Where, oh where, are you tonight?"
Jerry Pattengale is University Professor at Indiana Wesleyan University. His 2017 book releases include various single and co-authored/edited volumes: Faith Made Real: Everyday Stories of God's Power; Telling the Truth with a Smile; The Book: The History, Narrative and Impact of the Bible (at App Store under Museum of the Bible, 4 volumes); and forthcoming in the late fall, The Impact Study Bible;and The Greatest Book Ever Written. He holds several distinguished appointments and is associate publisher of Christian Scholar's Review. His news column garnered top state awards from AP and the Hoosier State Press Association the last two years.