Heidi Klum Shares 'Native American' Photo Shoot, Sparks Outrage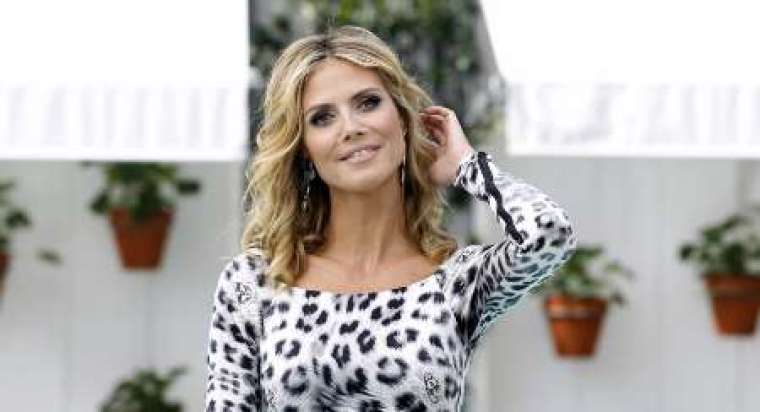 Heidi Klum is facing backlash for posting photos from a photoshoot inspired by Native American costumes, which included feather headdresses and face paint.
Hostile responses began pouring in directly after Klum shared several photos on her Facebook page late last month. The photos feature models who are competition on "Germany's Next Top Model," the reality television series which Klum hosts.
"Here are my beautiful GNTM girls," Klum captioned the post, which featured 12 black-and-white photos.
In almost every photo, the models donned feather headdresses, face paint, animal skin dresses and some even posed with items such as drums, bows, and arrows. Other images, which were all shot in Utah, include a model posing before a teepee wearing a Navajo patterned blanket, moccasin boots and face paint, while in the next a model wears her hair in brads with antlers on her head.
In one particularly controversial photo, a close-up of a blonde model reveals intricate face paint, a turquoise ring and one tear rolling down her cheek- bringing to mind the Trail of Tears and the forced relocation of Native Americans in parts of the U.S. during the 1830s.
As a result, thousands of comments have flooded Klum's Facebook accusing the German supermodel of being intolerant. Comments range from calling the "GNTM" photo shoot "racist," "culturally insulting," and "disrespectful," among many other angrier reactions.
"As a Native American woman, I am disgusted," one Facebook user posted. "It's not an 'honor,' it's a disgrace."
Another user pointed out, "War bonnets are not for women, and certainly not for a white, German woman. Not only do I find these photos sickening and infuriating, but I feel the ignorance of the followers of Heidi Klum are taking our progress away from discrimination and stereotypes many steps backwards."
Meanwhile, Klum is not the first celebrity to come under fire for "redface" photos. Last year, Michelle Williams posed for a British magazine in Native American-inspired clothing. The cover stirred controversy as many readers were offended by the actress' get-up and felt that the photos perpetuate "redface," or the creation and propagation of racist American Indians stereotypes and caricatures.