High-Ranking Episcopal Bishop Heather Cook Charged With DUI, Manslaughter; Bail Set at $2.5 Million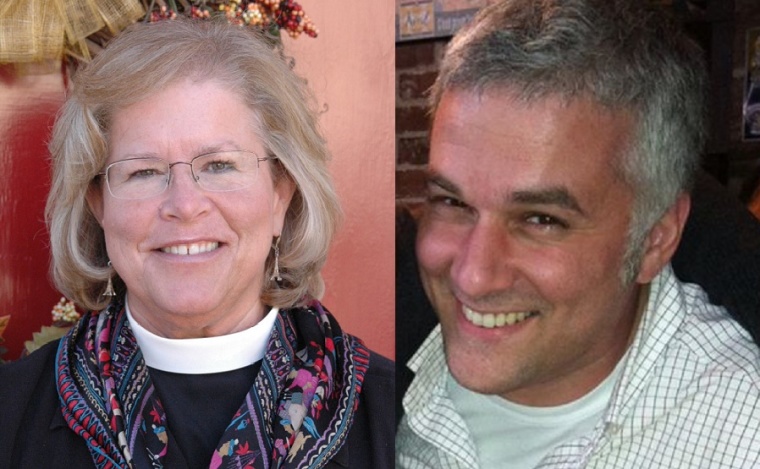 Maryland's second-highest ranking Episcopal bishop, Heather Cook, 58, is now staring at a sentence of up to 21 years in prison and $20,000 in potential fines after Baltimore's new state's attorney, Marilyn J. Mosby, announced Friday that she'll be charged with multiple crimes, including driving under the influence, causing an accident due to texting while driving, and leaving the scene of a fatal accident that claimed the life of 41-year-old married father of two, Thomas Palermo, on Dec. 27.
Ending weeks of speculation over the bishop's suspected sobriety at the time of the deadly incident, Mosby noted in a statement that Cook registered a staggering .22 breathalyzer reading shortly after the fatal collision, just shy of the .27 reading she registered in the 2010 DUI incident that Episcopalian leaders failed to reveal to the general convention of delegates who elected Cook to the esteemed position in the Diocese of Maryland last spring.
While noting that Cook is presumed innocent until found guilty beyond a reasonable doubt, Mosby said: "The State's Attorney's Office is committed to applying justice fairly and equally, no one is above the law. As concerned members of the public, I ask for your patience and understanding as we allow justice to run its course."
Cook turned herself in to police Friday afternoon and was being held at Central Booking. A District Court commissioner set her bail at $2.5 million according to The Baltimore Sun. The criminal charges filed against the bishop are listed as: negligent manslaughter by vehicle, which comes with a maximum 10-year prison term and/or $5,000 fine; negligent manslaughter by vehicle, which comes with a maximum 3-year prison term and/or $5,000 fine; driving under the influence resulting in a homicide, which comes with a maximum 5-year prison term and/or $5,000 fine, and the charge of homicide involving an auto or boat while Impaired, which comes with a maximum 3-year prison term and/or $5,000 fine.
The bishop also faces traffic charges listed as: duty of driver to remain at the scene of an accident resulting in bodily injury; duty of driver to remain at an accident resulting in death; use of a text messaging device while driving causing an accident with death or serious bodily injury, and driving under the influence of alcohol.
According to the statement of probable cause, both Palermo and Cook were allegedly traveling in the same direction — southbound on Roland Avenue when Cook, who was texting while driving, veered off to her right into the bike lane striking Palermo from the rear. The hit caused Palermo to crash into the hood and windshield of Cook's 2001 Subaru (it did not indicate whether or not this was the same 2001 Subaru wagon she was driving at the time of the 2010 incident).
Cook allegedly left the scene for approximately 30 minutes then returned to see what had happened and drove home to her apartment. A short while later she left her apartment and returned to the scene where she was detained by police and given a breathalyzer test where she registered the .22 reading.
Since news of the incident broke Cook and the Episcopalian Church leadership have incurred the wrath of the cycling community and many Episcopalians who allege that the church leadership did not disclose her pervious 2010 DUI charge before her election.
The Christian Post reached out to Cook's high-powered lawyer David Irwin of the law firm Irwin Green & Dexter Friday morning, but he said he was unable to comment because he had yet to see the statement of charges against his client.
In a statement Friday, The Episcopal Diocese of Maryland said they would respect the rule of law and are praying for a just outcome.
"With the announcement today by civil authorities of charges against Heather Cook in the tragic death of Thomas Palermo, the Episcopal Diocese of Maryland reaffirms its respect for the course of action the legal system is taking and prays for a just outcome in this case," said the Diocese.
"I want to thank the Baltimore Police Department and the state's attorney's office for the thoroughness and care by which they have handled and investigated this case," said the Rt. Rev. Eugene Taylor Sutton, bishop of the Episcopal Diocese of Maryland.
"On behalf of everyone in the Episcopal Diocese of Maryland, please know that we are deeply heartbroken over this, and we cry for the Palermo family, our sister Heather and all in the community who are hurting," he continued.
"Our Lord Jesus would be a healing presence in the midst of this tragic situation, and we are seeking ways to walk in his footsteps in the days and months ahead. As we do so we are truly being the church, and we will always be guided by our core Christian values of personal accountability, compassion and respect for the rule of law," he added.
On Jan. 2, the Episcopal Church also opened a disciplinary process, known internally as Title IV for the section of the Church's constitution dealing with discipline procedures, against Cook. The results of that process could likely lead to her dismissal as bishop.