Hillary Clinton Email Scandal 'Very Serious,' Says Bernie Sanders
U.S. Democratic presidential candidate Bernie Sanders on Sunday took a jab at rival Hillary Clinton's electability, pointing to the controversy surrounding her use of a private email server as evidence of potential damage to the front-runner's campaign.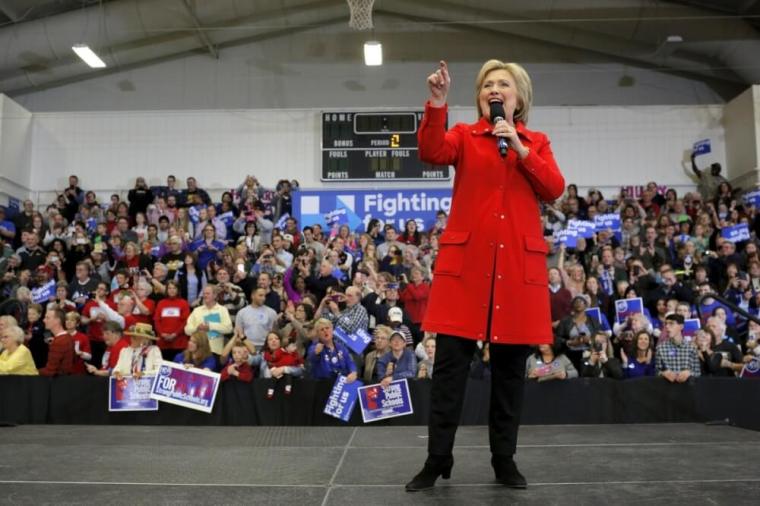 "In terms of what people are going to get slapped with, look at the front pages today in terms of what Secretary Clinton is getting slapped with," Sanders said on ABC's "This Week," referring to Clinton's use of a private email server while secretary of state.
Sanders, a senator from Vermont, had previously refrained from invoking the controversy over Clinton's controversial use of a private email account on a private server. In an early Democratic presidential debate, he declared that the American people were "sick and tired" of hearing about it.
But the issue has taken on new urgency in recent days as the two fight in an increasingly tight battle for the party's nomination. On Friday, the U.S. State Department announced they would withhold seven private email chains from Clinton's server, saying they contain top-secret information.
Speaking to CNN's Jake Tapper on State of the Union, Sanders was asked about his previous comments about Clinton's email scandal where he downplayed its importance. He was asked whether those comments meant he didn't think she erred in her use of the private email account.
Sanders replied, "Nope, nope. That is not, I think, a fair assessment. That is, I think, a very serious issue. There is a legal process taking place, I do not want to politicize that issue. It is not my style."
He repeated that assessment, calling the controversy "a serious issue" on NBC's "Meet the Press" as well, although he insisted he wouldn't make personal attacks on Clinton over the issue.
"I am not going to attack Hillary Clinton," Sanders told NBC. "The American people will have to make that judgment."
Throughout the dispute, Clinton has maintained that she did nothing wrong in conducting State Department business outside of an official server, arguing that it was permitted and that there was precedent for the practice.
When asked on Sunday whether she thought the call to withhold the email exchanges was political, Clinton shied away from outwardly accusing anyone but questioned the timing of the decision, which came just before Monday's first-in-the-nation nominating contest in Iowa.
"I just have to point out that the timing and some of the leaks that have led up to it are concerning," Clinton said on ABC's "This Week."
"The best way to resolve is to do what I asked months ago, release these, let the public see them and let's move on," she added.
In Iowa, Sanders and Clinton are locked in a statistical dead heat, with Clinton earning 45 percent support of likely caucus-goers compared with 42 percent for Sanders, according to a Des Moines Register/Bloomberg politics.
Nationwide, Clinton leads Sanders with 51 percent support to 40 percent, according to a Jan. 27 Reuters/Ipsos poll.