Hillary Clinton Wins Wheaton College Student Poll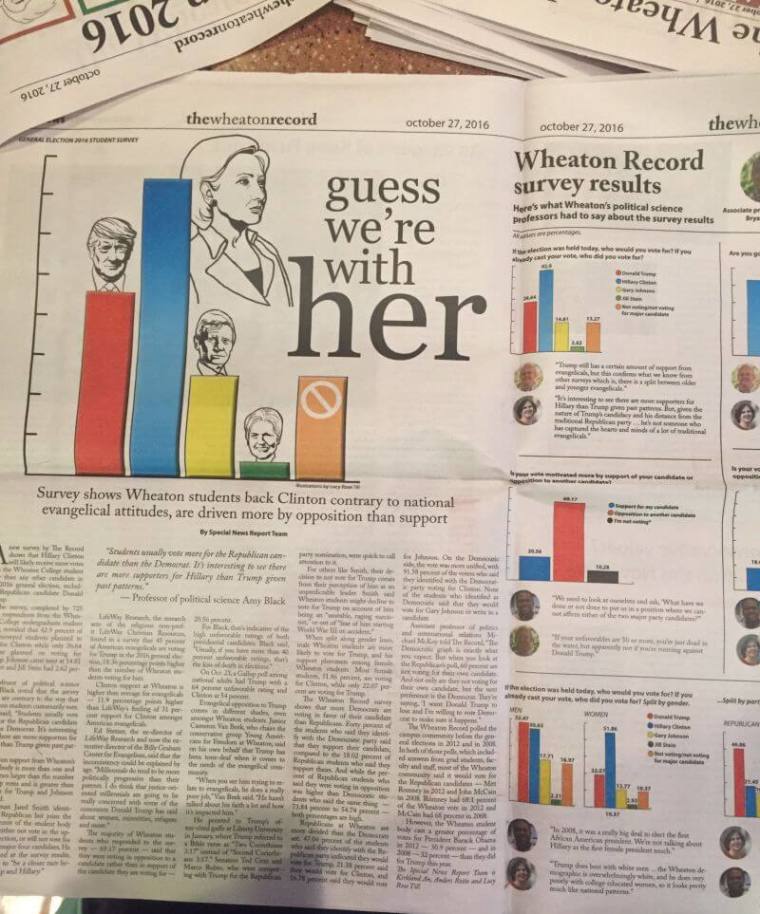 Students at the Illinois evangelical higher education institution Wheaton College are more likely to vote for Democratic presidential nominee Hillary Clinton than Republican presidential nominee Donald Trump, a recent survey has found.
A survey of over 500 Wheaton students published by the college's official student newspaper, The Wheaton Record, in its Oct. 27 edition, asked students who they planned to vote for or who they may have voted for if they already cast an early ballot in the presidential election.
Nearly 43 percent of the students polled said they voted or would vote for Clinton. Meanwhile, just over 26 percent of the students polled said they would vote for Trump. Libertarian candidate Gary Johnson picked up just under 15 percent of the respondents, while Green Party's Jill Stein earned over 2 percent of the vote.
"Trump still has a certain amount of support from evangelicals but this confirms what what we know from other surveys, which is there is a split older and younger evangelicals," Wheaton political science professor Bryan McGraw was quoted as saying to the newspaper.
Although the Christian Post could not confirm the survey's results before press time, the newspaper's special projects editor Kirkland An tweeted the results. Additionally, Wheaton alumna and conservative Christian radio host Julie Roys posted pictures of the polling results on her website.
According to one of An's tweets, the survey also found that male Wheaton students were more likely to vote for Trump than the female students.
Just over 32 percent of male Wheaton students said they'd vote for Trump, edging out the over 30 percent of student males that said they'd vote for Clinton.
As for female students, only 22 percent said they would vote for Trump, compared to the over 51 percent of female students who said they were voting for Clinton.
Seventeen percent of males and 12 percent of females said they would vote Johnson, while about 17 percent of males and 10 percent of females said they were not going to vote or are voting for a minor or write-in candidate, such as independent Evan McMullin.
Another question in the survey asked the students if their vote was more motivated by the support of their candidate or their opposition to another candidate. An overwhelming 69 percent said that their vote was influenced more by their opposition to another candidate.
As some consider Wheaton to be a school with conservative evangelical principles, the news of poll result came as a surprise to some Wheaton alums, such as Roys.
"This is shocking to me. I get not voting for Trump. I don't get voting for Hillary Clinton," Roys said. "I totally don't because as an evangelical, how can I vote for someone who is the most radical [on] abortion."
Wheaton theology professor Vincent Bacote spoke with Roys about the Wheaton poll in a special video discussion posted to her website about the generational divide for evangelicals.
Considering the survey results come after students at Liberty University in Virginia launched a petition disagreeing with Liberty president Jerry Falwell Jr.'s endorsement of Trump, Roys asked Bacote if he thinks the results would be different if it were Texas Sen. Ted Cruz running against Clinton. Bacote said that the student body would probably be more in favor of Cruz, Ohio Gov. John Kasich or Florida Sen. Marco Rubio over Clinton.
"People still think of Wheaton College as a fundamentalist rather than evangelical institution," Bacote said. "It depends about who you are talking to about what they think Wheaton College is. Wheaton College is an evangelical institution. We have a very conservative statement of faith and you have a broad range across the faculty of political positions."
Bacote stated that the reason why there might be a political divide amongst millennial and older evangelicals is because of what younger evangelicals consider to be political priorities.
"One of the things that is starting to happen in the fifteen years is younger evangelicals wanted to expand issues that talk about poverty and environment as much as they talk about abortion and marriage," Bacote added. "I think in spite of polls saying that younger evangelicals, more of them are favoring same-sex marriage, for example, they are not telling us is what they actually think about what scripture teaches about sexuality."
"It is almost like they are saying, 'I care less about this right or wrong part than I care about not being a hater,'" he continued. "So, they want to be compassionate and generous with people and they don't want anyone to feel excluded. And they don't want to be party to policy that would be seeming to demonize people."