Hillsong Movie: New 'Let Hope Rise' Trailer Highlights Award-Winning Band's Powerful Testimony (EXCLUSIVE)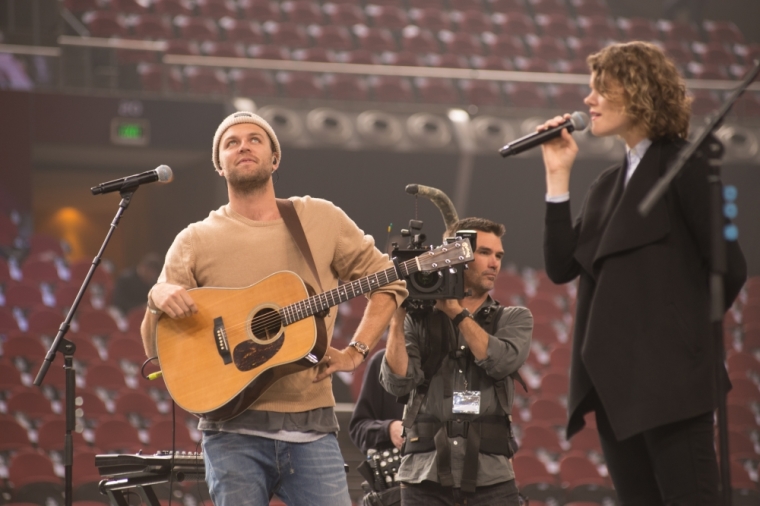 A new trailer for the forthcoming film "Hillsong — Let Hope Rise" was released on Wednesday and The Christian Post obtained exclusive footage.
Australian megachurch Hillsong will soon premiere its first-ever film about its church band, Hillsong United, and a new 2:14-minute trailer offers a glimpse into what looks set to be an uplifting story of love, faith, struggle and perseverance. The highly anticipated film chronicles the journey of the Australian worship band, which began in 1998 as a pastime for youth at church and has since grown into a global sensation.
"The only thing that matters about our story is that everything that we do represents the heart of God," said Joel Houston, who leads the Dove Award-winning band. "I believe that God created music for the soul purpose to connect the human heart, our soul with Heaven."
Houston is among 11 band members who are a mix of volunteers and employees of Hillsong, including worship leader Taya Smith, who shares her emotional testimony in the exciting trailer.
"Music has always been something that connects me to God straight away and I realize, who am I to, like, lead these people? I'm just a country girl," a teary-eyed Smith said.
Hillsong, which is headquartered in Sydney, has churches around the world with more than 100,000 weekly attendees, including thriving congregations in New York and Los Angeles. An estimated 50 million people sing their songs every Sunday.
In 2013, Hillsong United's third studio album Zion peaked at No. 1 on Christian album charts in Australia, the U.S. and the U.K. Last year, the band scored its first-ever American Music Awards nod in the Contemporary Inspirational Artist category.
Houston, who's co-pastor of Hillsong NYC, previously told CP that the band's goal is never to write "cool" music, but rather to share the incredible story of Jesus.
"I'm not trying to write songs that are cool or hip, or that keep up to date with whatever is out there on the radio," he said. "We're genuinely just trying to write songs that are honest reflections of a creative God and music that helps people connect with God."
On Tuesday, the band dropped its new single "Touch The Sky." Their Empires album is slated for release on May 26 and the Let Hope Rise soundtrack drops on April 27.
In January, Warner Bros. abruptly pulled the film from its distribution and Relativity Studios, the third-largest mini-major film studio in the world, will now distribute the project.
"We are excited to share 'Hillsong — Let Hope Rise' with moviegoers across the United States," said Matt Alvarez, who's overseeing the project for Relativity. "Chronicling this Christian band's humble beginnings to their present day worldwide ministry is truly remarkable and worthy of their story being told on the big screen."
The film is produced by Jonathan Bock of Grace Hill Media and Matthew Weaver and Ben Field. Phil Cooke of Cooke Pictures has been named as an executive producer along with Wayne Hughes Jr. and Greg Campbell of Cantinas Entertainment, who's financing the project.
Bock commended the band in saying that despite their success, they remain humble and focused on what's important — spreading the Gospel through music.
"With songs like 'Mighty to Save,' 'Oceans,' 'Lead Me to the Cross,' 'Hosanna' and 'From the Inside Out,' anyone who regularly attends a church knows Hillsong's music by heart. That's how influential they've become," Bock said. "And yet, despite the fame and adulation, they're still just an unpretentious worship band trying to do what hundreds of thousands of other worship bands try to do every week — glorify God through their music. How they balance that is a fascinating and surprising story."