'Hollywood's Noisiest Christians' Roma Downey and Mark Burnett Preview 'Ben-Hur' Movie at MegaFest; 'It's the Biggest Thing We've Ever Done'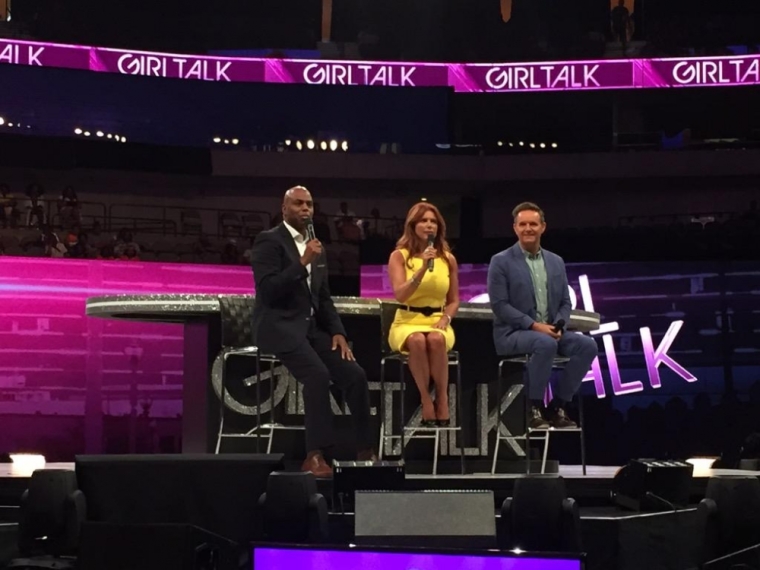 Hollywood power couple Roma Downey and Mark Burnett previewed their forthcoming Christian film "Ben-Hur" during a surprise appearance at Mega-Fest in Dallas on Friday.
Described by the notable Christian filmmakers as an "epic" action movie, "Ben-Hur" is based on Lew Wallace's 1880 novel Ben-Hur: A Tale Of The Christ and stars Academy Award-winning actor, Morgan Freeman.
Downey and Burnett, who created the "The Bible" miniseries and the box-office hit "Son of God," told a large crowd at Bishop T.D. Jakes' annual family festival that ultimately the film tells "a story of forgiveness with an underlying story of Jesus." The project, which is the product of Metro-Goldwyn-Mayer Pictures and Paramount Pictures, is just the latest in the couple's quest to glorify God through Hollywood entertainment as they continue to be "Hollywood's noisiest Christians."
"Ben-Hur is an epic, epic movie," said Burnett. "An action movie but at the center of it is the story of Jesus, the story of redemption, of forgiveness … it's the biggest thing we've ever done and again we are remaining to be Hollywood's noisiest Christians."
Downey, who recently debuted her new six-part TLC series "Answered Prayers," said the film highlights the power of Jesus' love.
"… It will deliver as a big action movie but it is a story about a man who only has a desire for revenge in his heart," she said. "He gets the revenge that he's looking for but he's left empty … and it isn't until he has an encounter with Jesus Christ that his life is full so it's a beautiful film."
"Wanted" director, Timur Bekmambetov, directed the project which was filmed in Rome. The big budget film, which comes amid a growing consumer appetite for faith-based movies in Hollywood, is based on script by Keith Clarke and Academy Award-winning "12 Years A Slave" scribe John Ridley.
"What we're doing is re-imagining, so it's a complete rewriting," Freeman said, referring to the adaptation of Wallace's classic novel.
Burnett added: "At it's essence, "Ben-Hur" is a story of forgiveness with an underlying story of Jesus.
This is not the first time that Wallace's novel has hit the big screen. In 1959, William Wyler's MGM version starring Charlton Heston won 11 Oscars while a 1925 silent version was also a hit.
Burnett and Downey said previously that Wallace's novel "is one of the most important Christian works of fiction ever written" before adding that "Ben-Hur" "will be the most anticipated movie release of 2016."
"Ben-Hur" is scheduled for release on Feb. 26, 2016.