Homeless Man Cut Neck of Pastor's Widow at Church After She Gave Him Food to Eat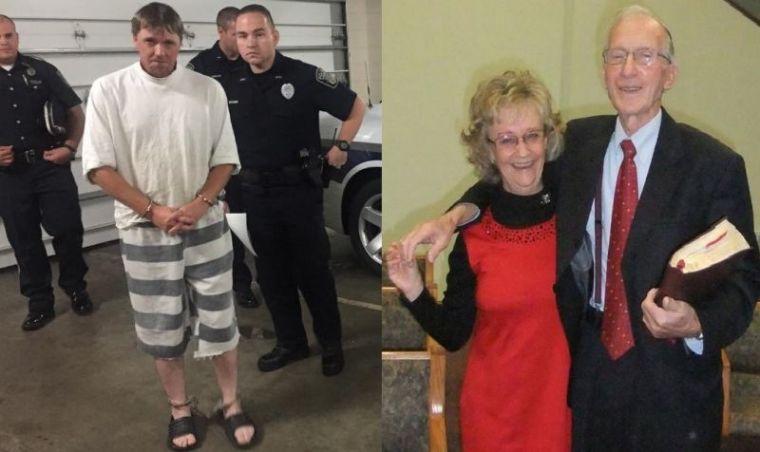 Dwight Mitchell Bell, the man accused of killing Ruthie Carolyn New, a 70-year-old pastor's widow who was found dead in her Somerset, Kentucky, church last month, cut her neck after she gave him some potato chips to eat, police say.
Bell, 41, appeared in court Wednesday for a preliminary hearing, according to WYMT. A detective revealed in testimony that Bell, who is homeless, visited the Denham Street Baptist Church in Pulanski County and asked New for food.
The widow walked to the church activities center and got some potato chips for Bell. Soon after she gave him the chips, however, the man who killed his own father in 1999 turned around and killed the widow who was simply trying to help him.
The detective said New died from a laceration to her neck. Bell also reportedly told them that he took her life because he believed he could get a fresh start in life if he stole her car, phone, and other possessions.
Bell failed at getting the fresh start he was looking for, however, as police tracked him down through his EBT card.
The Somerset Police Department announced Wednesday that they arrested Bell in Dandridge, Tennessee, with the help of local law enforcement and he confessed to New's murder during an interview.
Pulaski County Coroner Clyde Strunk, who knew the late pastor's wife personally, had previously called the crime "hideous."
"When we see these kinds of hideous crimes, it makes us back up and realize that we're living in troubled times," Strunk said. "The church family is hurting. Our whole community is hurting because she was loved and respected so much."
Ruthie's husband, the late J.S. New, pastored Denham Street Baptist Church for 40 years up until his death five years ago, the Commonwealth Journal said. Even after his death, the faithful widow helped clean the church.
"She supported me, supported the new pastor, supported my wife," Pastor Jeff Griffith, who took over the church after New's husband, said. "She was 100 percent a Christian lady."
Court records highlighted by WKYT said in October 1999, Bell pleaded guilty to second-degree manslaughter in connection with the death of his father, Roger Bell. The troubled man reportedly shot his father in the back of the head with a 12-gauge shotgun and shot his estranged girlfriend as well.
He was sentenced to a 15-year prison sentence but was paroled in June 2005 after the Department of Corrections gave him 233 days of credit for time-served before his conviction.
By April 2008, however, he was back in prison for a parole violation and he remained incarcerated until Oct. 1, 2012, when he was released on supervision. His supervision ended in March 2013.
The widow's son, Jonathan New, revealed last week that he was involved in "powerful prayer" at the church where his mother died just a day before Bell's arrest and confession.
"We had a powerful prayer this morning at the Denham Street Baptist Church Activity Center. After everyone left, I stayed and shot hoops for a bit just like I did when mom was there cleaning. Psalms 62:6 He only is my rock and my salvation: he is my defense; I shall not be moved," Jonathan wrote in a Facebook post.
On Monday, Jonathan testified how the God his parents shared with him had been moving in his life lately.
"I was flat on my back a few weeks ago hurting spiritually and physically. There was only One that could heal me, the same One that my parents taught me about and followed faithfully. I prayed all night," he began in a post on Facebook.
"At 7 a.m. the next morning the pain was gone and a hunger grew inside of me. I hadn't been able to eat for weeks after a surgery but that morning I was HUNGRY. Another hunger was also growing inside and that was the HUNGER for God's Word. I had been reading my Bible everyday up to that point but now I am really reading it," he said. "It is always in my reach and my Deliverer is always with me. I'm hungry and want to stay that way. Today friends, I am girded with gladness because of my Lord."
He then quoted verses from Psalms 30.
"Psalms 30:5 For his anger endureth but a moment; in his favor is life: weeping may endure for a night, but joy cometh in the morning. 10 Hear O Lord and have mercy upon me; Lord, be thou my helper. 11 Thou hast turned for me my mourning into dancing: thou hast put off my sackcloth, and girded me with gladness. 12 To the end that my glory may sing praise to thee, and not be silent, O Lord my God, I will give thanks to thee forever," he ended.