Hope Christian Church Accused of Stalking, Hazing at Arizona State University
Hope Christian Church Accused of Stalking, Hazing at Arizona State University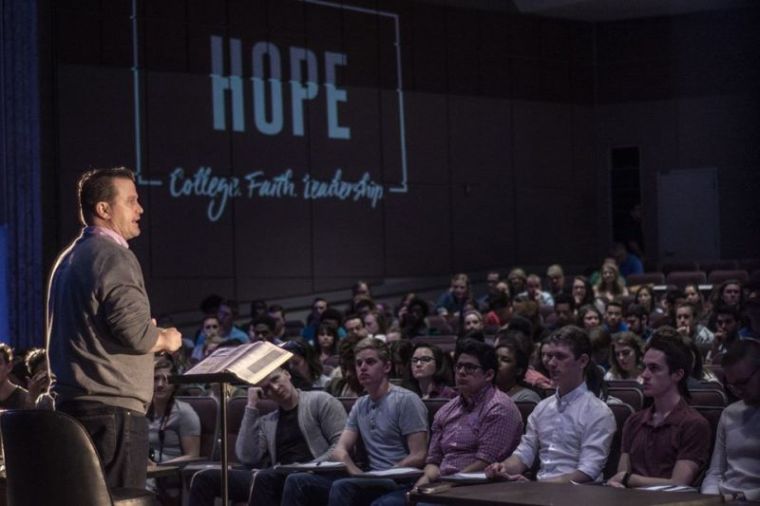 Hope Christian Church ASU, a ministry that welcomes hundreds of students, parents and community members to worship services on the Tempe campus of Arizona State University each week, is now being investigated for allegations of stalking, hazing, and other misconduct.
Citing a 123-page complaint made against the church by 14 people last July, including eight current students and an alumnus from Tucson, the Arizona Daily Star reports that seven disciplinary charges are now pending for suspected violations of the state university system's student code of conduct.
The charges, which cover hazing, are described as "acts of mental harm, personal degradation and embarrassment," stalking, unauthorized entry to student housing, unauthorized use of student information, and discrimination based on gender or sexual orientation, according to the report.
Five campus clubs — Sun Devils Wear Prada, Sun Devil Survivor, Outlaw Comedy, Man Up and WOW Factor — which are each said to play a key role in helping Hope attract new members, are also facing misconduct charges. The church and clubs could lose access to campus if the charges are upheld, which would be a major blow to the ministry.
Hope Christian Church currently holds its services at Neeb Hall on the ASU Tempe Campus, which according to the Star, is booked at no cost by a student club at the university.
While formal misconduct proceedings have been launched by the university, the church maintains they have done nothing wrong and is confident that once the school hears their side of the story they will be able to address any concerns that have been raised by former members.
ASU "has yet to hear our side of the story, and we look forward to working with them to make sure they have all the facts," Corey Vale, chairman of the church's board of directors, told the Star.
"We're confident that ASU will be able to determine which student complaints, if any, need to be addressed and which complaints are simply an attempt from outside detractors to promote religious discrimination and intolerance through bullying and hate speech," he said.
Vale and other church leaders argue that the complaint was manufactured by a former Hope employee who has previously raised concerns about the church on social media. The students in the complaint, however, deny this.
The students say in the complaint that Hope Church is a "bona fide cult" that showers new recruits with attention and affection — a tactic known as "love-bombing" — and then uses twisted Bible quotes and psychological manipulation to keep them in line, according to the Star.
Ministers of the church, which has 35 staff members and 100 student leaders, have been accused of violations such as entering dorm rooms uninvited.
Two of the misconduct charges against the church and related clubs are for "non-compliance with university housing policies" and for "entering student residential rooms without permission" the Star reports.
Hope's Executive Pastor Ricky Rudaflores said, however, that that behavior is not supported by church policy.
"We train our staff to abide by all university policies," he said.
Students also claim they were forced to recount sexual trauma.
The church, however, has many supporters who dispute the image painted by the complaint.
"We have had a chance to meet Pastor Brian (Smith) and his wife, several staff members (and) other volunteers," Gila County Superior Court Judge Timothy Wright, whose daughter attends ASU and joined the church last school year, told the Star.
He said he and his wife visited Hope a half-dozen times and came away impressed.
"We have full confidence that they have the students' best interests at heart and there are no hidden agendas," he told the Star.