House Panel OKs $2.5B in Annual Cuts to Food Stamps After Debating Whether Jesus Would Approve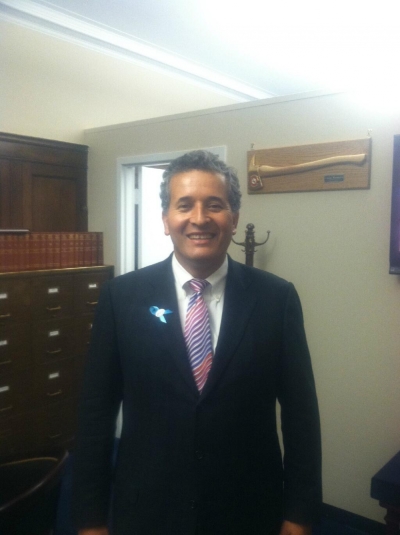 After squaring off with biblical scriptures on whether or not Jesus would approve, politicians in the House Agricultural Committee approved a farm bill on Wednesday that cuts the federal food stamp program, which supported 47 million people last year, by $2.5 billion annually.
According to a recent report, under the revised Supplemental Nutrition Assistance Program (SNAP), Americans would now have to pass an income and assets test to become eligible for the benefits. Republicans argue that fewer Americans should qualify for the program because they receive benefits from other programs. Approximately 2 million people would qualify for food stamp benefits under the new rules.
But before the changes were approved with heavy Republican support, ex-Jesuit and Democrat from California Rep. Juan Vargas turned the debate of the cuts into a theological discussion by invoking biblical treatment of the poor in his argument against the cuts.
"Jesus kinda fools around and gives you parables. He doesn't oftentimes say exactly what he means," said Vargas. "But in Matthew 25 he's very, very clear. And he delineates what it takes to get into the kingdom of heaven very, very clearly. And he says how you treat the least among us, the least of our brothers, that's how you treat him."
Southern Baptist and Texas Republican Rep. Mike Conaway declared that he too is a follower of Christ and charged right back at Vargas.
"I read this chapter of Matthew 25 to speak to me as an individual," said Conaway. "I don't read it to speak to the United States government. And so I would take a little bit of umbrage with you on that. Clearly, you and I are charged that we do those kinds of things but [our government is not] charged with that," he added.
Last week, a coalition of religious and secular organizations, including the Catholic and Episcopal churches lobbied Congress in a letter to vote against the food stamp cuts.
"If SNAP is weakened, many millions of low-income Americans will be harmed – people with disabilities, children, seniors and struggling parents – those who work, as well as those who are unemployed or underemployed. If SNAP is weakened, our nation will see more hunger and food insecurity, worse health and educational outcomes, and higher health costs," the coalition noted.
"Our nation can ill afford to see SNAP weakened in the Farm Bill or other legislation. Already, benefits that currently average less than $1.50 per person per meal are scheduled to drop on November 1, 2013, with termination of the American Recovery and Reinvestment Act benefit boost," it added.
"Recognizing the importance of SNAP benefits, the President has included an extension of the SNAP ARRA benefit boost in his FY2014 budget. Overwhelmed food banks, pantries, religious congregations and other emergency food providers across the country cannot fill the significant gaps in nutrition assistance that weakening SNAP would leave. We call on you to support and protect SNAP and to oppose any proposals that would weaken SNAP's structure or cut its funding."