'How to Write a Worship Song' Spoof Strikes a Chord; Called 'Sad, But True'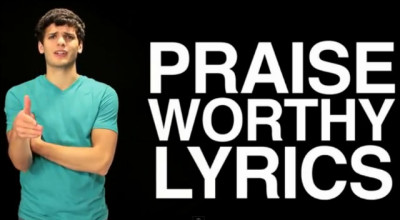 An online comedic group known by the name of Blimey Cow has turned heads this week with its latest video, a tutorial titled "How to Write a Worship Song (In 5 Minutes or Less)," lampooning popular praise songs found in some Christian churches.
The nearly four-minute production from the Nashville, Tenn., group of 20-something Christians was uploaded on YouTube on Monday, and became an immediate hit with Blimey Cow's fan base. By Tuesday, the tutorial was among YouTube's top five most popular videos.
"Every good worship song only needs four chords. You can add an extra one in the bridge if you're feeling especially artistic, but you really only just need four," says tutorial guide Jordan Taylor, one-third of Blimey Cow. "Just make sure that you play it really loud and that you have a lot of delay on the lead guitar."
Taylor goes on to suggest chord changes to make the worship song sound "a little less uplifting, and a little more convicting."
As for the "praise worthy lyrics," the tutorial guide suggests, "The lyrics don't need to be deep. They just need to be easy enough so that people can remember them by the second time they get to the chorus."
The Blimey Cow tutorial goes on to share other essentials to guarantee that the tune hits home with worshippers, such as making sure something in the song "is on fire" or "in flames."
"Be it our hearts, our souls, this generation," Taylor suggests in the clip.
Although it's a spoof tutorial, Blimey Cow has managed to hit the nail on the head, according to Christians in the music scene, with some finding the message "sad."
Jeff Cruz, a program director at family radio station 89.7 WMHK in Columbia, S.C., called "How to Write a Worship Song..." "remarkably accurate and incredibly sad at same time."
Popular liturgical post-rock group Gungor, meanwhile, said the video was "brilliant."
Dove Award winner Derek Webb also chimed in, writing on Twitter, "This is as funny as it is true. Which makes it not funny."
Watch "How to Write a Worship Song (In 5 Minutes or Less)" below:
How to Write a Worship Song (In 5 Minutes or Less)
Josh Taylor, 24, shared with The Christian Post Wednesday that Blimey Cow, which consists of himself, his 21-year-old brother Jordan and his 23-year-old wife Kelli, has been in existence since 2005, and after a hiatus, returned to the Internet in August 2011. The comedic trio has since released a new video every week, under the title "Messy Mondays." Blimey Cow's YouTube channel has more than 77,000 subscribers and its 168 videos has attracted well over 15 million views. The group pokes fun at everything from homeschooling and youth groups to dating and technology.
As Taylor explained it, Canadian musician and friend Garrett Vandenberg came up with the original idea for the group's latest effort.
"He approached me a few weeks back with the idea for 'How to Write a Worship Song,'" he told CP. "It sounded like a fantastic idea, but I was nervous because we had never done anything like it..."
After playing around with the idea for a few weeks, Vandenberg delivered the music and a working script. Blimey Cow added its own jokes and gave the script a "Messy Mondays" feel. Pretty soon, "How to Write a Worship Song (In 5 Minutes or Less)" was born.
"All the kudos in the world to Garrett – he made this one what it is," Taylor added, noting that the overall feedback to the spoof tutorial has been "very positive" and the ensuing love and support "overwhelming."
As of press time, "How to Write a Worship Song (In 5 Minutes or Less)" had attracted more than 213,000 views, more than 1,200 comments and more than 4,000 "likes" – although it has currently slipped in popularity on YouTube's current "Comedy" chart.